Am./Can. CH Talamar's Indigo Shadows ("Faith")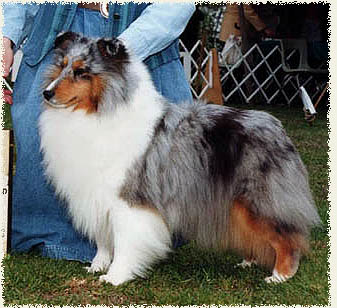 Faith was born 30 January 1996. She was a Canadian champion and had three minor points toward her American championship when we brought her home from the 2001 National, where she'd placed second (to WB) in the large Open Blue class. Handled by Kim, Faith then finished her American championship in six weekends, winning majors under respected breeder-judges Cheryl Anderson and Tom Coen and several times taking the breed over specials.
Thanks to the generosity of her breeder, Lyn Wolanski, Faith is now a permanent resident here at Foxglove. She is co-owned with Lyn.
Faith is the dam of the promising youngsters Foxglove Talamar Hat Trick and Foxglove Talamar Temptation. Faith has been bred to CH Foxglove Ashburton Bottoms Up. The litter is due at the end of June 2002.
Am./Can. CH Alfenloch Ryan O'Neil, ROM

Can. CH Fairfax Stand And Deliver

Can. CH Fairfax Twenty Lbs Of Trouble ROMC

Can. CH Shadlers Highway One O One

Am./Can.CH Barwood's Impact ROM/ROMC

Am./Can. CH Fairfax Shadlers Obsession, ROMC

Can. CH Fairfax Feature Presentation

Am/Can CH Shadlers Highway Heartbreaker

Am./Can./Jap. CH Alfenloch Whirlwind, ROM/ROMC

Am./Can. CH Trevanne's Windswept, ROM

Can. CH Trevanne's Blue Heaven

Can. CH Shadlars Colormebad At Talamar

Am./Can. CH Alfenloch Ryan O'Neil, ROM/ROMC

Can. CH Shay-Dee's Once In A Blue Moon

Arhope Nationview Bombshell, ROMC
Am./Can. CH Talamar's Indigo Shadows (Faith)
Can. CH Ridgeside Star Wars, ROMC

CH Cameo Farms Purple Rain

Cameo Farms Light Up The Sky (CH Dundee Famous Amos)

Liska Starry Starry Night

Caper Hills I Mean To Shine (Am./Can. CH Severn Smoke On The Water)

Can. CH Meridan's Night Flight, CDX, ROMC

Can. CH Har-Mitch Shooting Star (Can. CH Ridgeside Star Wars, ROMC)

Can. CH Mudels Silver Threads

CH Banchory Formal Notice, ROM/ROMC

Can. CH Madselin's X'Tra Special, CD, ROMC

Madselin's Della Reese

Can CH Liska Flight Of Fancy

Caper Hills I Mean To Shine (Am./Can. CH Severn Smoke On The Water)

Can. CH Meridan's Night Flight, CDX, ROMC

Can. CH Har-Mitch Shooting Star (Can. CH Ridgeside Star Wars, ROMC)