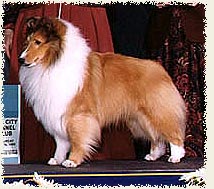 OJ, named for his bright orange color, was born 15 August 1993, and finished his championship, owner-handled, at 17 months of age, with three majors -- all earned in a single weekend. "Moved-up" the next two weekends after finishing, he took a specialty BOS and a Group One at an all-breed show (pictured on left).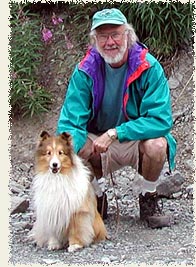 From his sire, CH Tara Hill Aylmere Wild Card, OJ inherited that beautiful, and incredibly dominant, dark, almond eye. From his dam, a daughter of CH Benayr Sentimental Journey, OJ inherited a lovely, chiseled head with beautiful stop and underjaw, a lovely round muzzle, perfect planes and "corners." OJ was very dominant for these virtues, and although he sired only four litters, his impact here, and elsewhere -- through his son, CH Foxglove Chances Are -- continues to be immense. We thank Pat Wright (Aylmere) for having shared this boy with us.
OJ now lives the good life with his best friend, Sam Edwards, M.D., wintering in sunny Florida and enjoying yearly summer vacations in the mountains of Colorado (right).