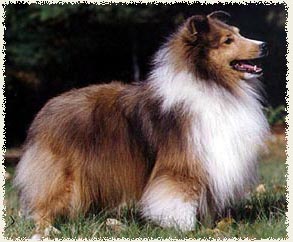 Chandler was born 28 April 1996, and finished his championship at 27 months of age. He is 15", tri-factored, and non-white-factored. He has natural, never-touched ears, normal eyes, full, correct dentition, and is OFA Good.
Chandler was something of a puppy flyer, picking up several specialty match wins prior to six months of age. At a week over six months of age, he got a major reserve under noted breeder-judge Charlotte McGowan (click here for photo). At almost nine months, he won his first major (click here for photo). He got his second major at 20 months by going winners dog at the Baltimore SSC specialty show under breeder-judge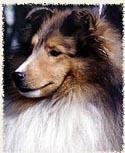 Bonnie Smith (from the bred-by class). Chan was owner-handled to all of his points.
We often say that Chandler got the best of both his parents -- his dam's exceptional front end, and his sire's lovely head detail and beautiful eye, both of which he generously passes along to his kids. Both of Chandler's parents contributed to his ability to control size.
Chandler currently is the sire of three major-pointed kids and others with minor points.