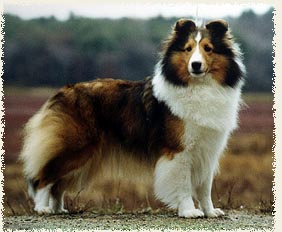 We are crazy about this bitch, who is as sound as she is pretty. Sienna, who was born 18 August 1997, picked up one point from the puppy classes, and then went home to mature. When she started looking "ready," in March 2001, we decided to enter her in the upcoming Tri-State SSC specialty -- which she won, for a fat, four-point major. Despite playing second fiddle to CH Talamar's Indigo Shadows, who we were showing in the classes at the same time, Sienna finished her championship in two months with three majors, including two four-point specialty wins. Sienna is the second champion (so far) in her litter of four.
Sienna's litter by CH Cameo Farms Friday Night was born April 30, 2002.
To see Sienna grow up, click here.
Sienna was co-bred with Deb Jones (Ashburton) and Susanne Allen (Avalon). She is co-owned with Ashburton.