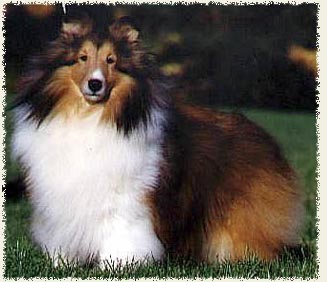 Penny, pictured here at 10 years of age, was born 29 June 1990. She got her first four points, in the form of a specialty major, at 14 months of age and finished in 1994 with a five-point specialty major and BOB over specials. She went on to take two more specialty BOBs that year.
Because of Penny's exceptional movement, we expected her to do well under all-rounders, as well as under breeder-judges. But unfortunately for Penny, she was being shown by a relatively inexperienced owner-handler on the east coast in the early 1990's, when the Sheltie ring was dominated by a very different "type." With her longer, leaner head, almond eye, longer body, neck, ground-covering sidegait, and elegance, Penny was ahead of her time in many ways. Few all-rounders had the courage to put up something that looked so "different." She won both majors under Sheltie breeder-judges and the majority of her minor points under Sheltie or Collie breeder-judges.
We will never be adequately able to express our gratitude to Deb Jones (Ashburton) for allowing us to co-own Penny. Her influence will be felt here, and elsewhere, for many years to come. Penny proved to be dominant for her lean, smooth backskull, as well as her exemplary type and soundness. She and her children also have done a good job at controlling size. With a lifetime total of just 11 puppies in four litters, Penny is the dam of six champions -- CH Foxglove Ashburton Elegy (bitch), CH Foxglove Ashburton Ingenue (bitch), CH Ashburton Foxglove All Of Me (bitch), CH Foxglove Ashburton Bottoms Up (dog), CH Ashburton Foxglove Nickelodeon (dog) and CH Foxglove Ashburton Photo Op, (bitch). Penny is pictured below with four of her six champion kids.
Penny was the winner of the brood bitch class at the 2000 ASSA National and, with three champions having finished in 2000, she tied with Macdega Rendezvous, ROM, for the year's top-producing bitch. Penny was honored with a special tribute in the March/April 2002 issue of Sheltie Pacesetter.
From left to right: CH Foxglove Ashburton Bottoms Up (Jigger), CH Foxglove Ashburton Elegy (Ellie), CH Foxglove Ashburton Ingenue (Janey), CH Ashburton Foxglove All Of Me (Lily), and their dam, BISS CH Malpsh Penny Serenade, ROM. Photo: December 2000.