Foxglove Ashburton Hi Octane, pts. ("Turbo")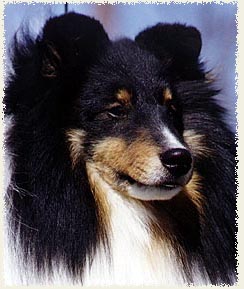 Turbo was born 18 August 1997. He is a 15-3/4", bi-factored, non-white-factored, tri-color. In limited showing, Turbo boasts 6 points, including a BOB over specials. Look for him in the ring in 2001.
To see Turbo grow up, click here.
Turbo was co-bred with Deb Jones (Ashburton) and Susanne Allen (Avalon). He is co-owned with Deb.
CH Macdega The Piano Man, ROM

CH Macdega Maserati, ROM

CH Macdega One Day At A Time

CH Macdega Glenhart Grand Prix, ROM

CH Macdega Canden Coming Home

Glenhart Ring Of Gold

Glenhart Ring My Bell

CH Lakehill King O' The Road

CH Sunnybrook's Matchmaker

CH Sunnybrook's Heritage Spirit, ROM

Romayne's Close Encounter

CH Lakehill Heritage Crystal

CH Cahaba's Magic O' Marion

Lakehill Sassafras Lass

Wistwin Dark Furze
Foxglove Ashburton Hi Octane (Turbo)
CH Sunnybrook's Heritage Spirit, ROM

Am./Can. CH Alfenloch Ryan O'Neil, ROM

Can. CH Alfenloch Brooke Shields

Am/Can./Jap. CH Alfenloch Whirlwind, ROM

CH Sunnybrook's Heritage Spirit, ROM

Am./Can. CH Alfenloch Tatum O'Neil

Can. CH Alfenloch Brooke Shields

CH Foxglove Ashburton Ingenue (dam of 3 CHs)

CH Fourwinds Light The Way, ROM

CH Trelane Bold Image

Trelane Woodwyn Imagine That

BISS CH Malpsh Penny Serenade, ROM (dam of 6 CHs)

CH Cameo Farms Justinuff Spirit

CH Malpsh The Magic Is Back

CH Westwood's Malpsh Cherry Flan (dam of 3 CHs)