Our Illustrious History.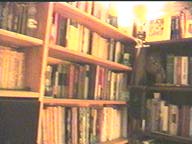 Since 1995, LUNGFULL!magazine has brought you twelve issues
all but a few of which are sold out & available solely by being invited
to someone's home & "borrowing" them from their shelves.
Those that are still availble through honest means exist only very tenuously in this condition.
Here's the skinny on all of them.
1 Spring 1995: Saddle-stapled & photocopied, handed out mostly at readings around New York City
Elena Alexander, Julie Jigsaw Ashcraft, Cheryl B, Star Black, Pam Grossman, Bob Holman, Brendan Lorber, Marvin Lorber, AF Lukacin, Carolyn Peyser, Silver, Hal Sirowitz, Suzanne Soloman, Sparrow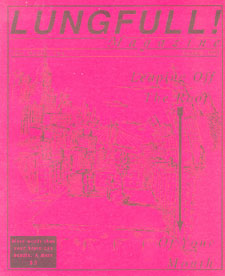 2 Autumn 1995: Perfect-bound & docutek printed, sold at independednt bookstores in New York
Cynthia Andrews, Clayton Brooks, David Cameron, Todd Colby, Anne Elliott, Lilah Freidland, Pamela Grossman, Bob Holman, Joe Maynard, Kevin McManus, Nadine Mozon, Brendan Lorber, Sparrow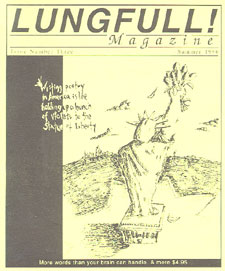 3 Summer 1996: First nationally-distributed issue
Elena Alexander, Paul Bibeau, Steve Cannon, Joe Elliot, Gloria, Cliff Fyman, David Huberman, Brendan Lorber, Mark Owen McCabe, Michele Morgan, Eve Packer, Jill Rapaport, Jen Robinson, Lola Rodriguez, Silver, Sparrow, Francine Daria Stephens, Edwin Torres, John Wright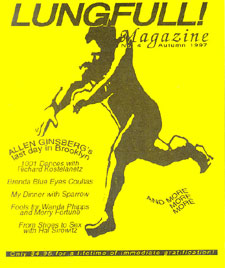 4 Autumn 1997: First laminated issue, editorial board formed
Allen Ginsberg, Anselm Berrigan, Brenda Iijima, Carolyn Peyser, George Sedgwick, Hal Sirowitz, Larissa Shmailo, Merry Fortune, Pat Steele, Tom Devaney, Sparrow, Grady Klein, Tom Savage, WT Spadero, Wanda Phipps, E Paek, Robert Bové, Richard Kostelanetz, Paul Weinman, Lisa Brown, Mike Topp, Marcella Durand, Jim DeWitt, Gita Ghei, Fronny Plume, Brendan Lorber, Brenda Coultas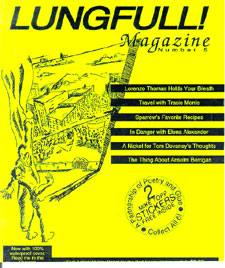 5 Spring 1998: First issue with bar-code, carried by three distributors to insure national saturation
Lorenzo Thomas, Tracie Morris, Anselm Berrigan, Brandon Downing, Brendan Lorber, Sharon Mesmer, Sparrow, J Tarin Towers, Wanda Phipps, Brett Evans, Carolyn Peyser, Cliff Fyman, Denver Butson, Daniel Thomas Moran, Elena Alexander, Frank Sherlock, William Fogarty, Greg Fuchs, John Grey, James Wilk, Julia Kadlec, Katie Degentsh, Mike Topp, Jonathan Goode, Mark DeCarteret, Robert Bové, Michael Rothenberg, Sean Sims, Sondra Zeidenstein, Tom Devaney & Suzanne Solomon. Visual artists include Grady Klein, Geo, Daisy Decapite, Jonathan Goode & Sean Sims.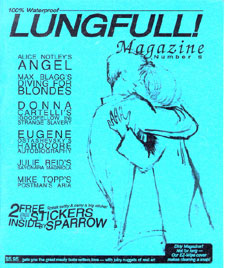 6 Autumn 1998: 100% waterproof
Ahimsa Timoteo Bodhrán, Alice Notley, Anita Wadhwa, Bess Fernandez, Brenda Coultas, Brendan Lorber, C.C. Russell, Cem Coker, Chris Stroffolino, Daisuke Namagachi, Dale Sherrard, David Aivaz, Donna Cartelli, Edmund Berrigan, Eric Wright, Eugene Ostashevsky, Josie McKee, Jen Robinson, Jennifer McCreary, Joel Dailey, John Knoll, Jonathan Goode, Julie Reid, Ken Smith, Marvin Lorber, Max Blagg, Merry Fortune, Mike Topp, Pat Steele, Rachel Daley, Sparrow, Tom Devaney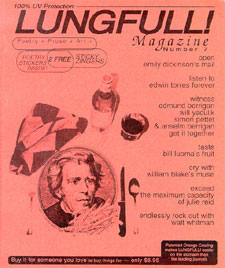 7 Spring 1999: 100% UV Protection
Edmund Berrigan, John M. Bennett, Joe Maynard Vincent Farnsworth, Walt Whitman, William Blake, Emily Dickinson, Gwendolyn Albert, Jeremy Sharpe, Cliff Fyman, Donna Cartelli, Julie Sloane, Scott Teplin, Edwin Torres, Will Yaculik, Lina Palotta, Edward Mycue, Beth Withey, Bill Kushner, Bill Luoma, Brandon Downing, Mike Topp, Sharon Olinka, Rodney Phillips, Simon Pettet, Brendan Lorber, Brett Evans, Bruce Williams, Buck Downs, Tom Devaney, Laura Silver, Tom Savage, Elena Alexander, Julie Reid, Liliana Dlaboha, Lo Galluccio, Mary Beth Kosich, Albert Flynn DeSilver, Alicia marie Howard, Anselm Berrigan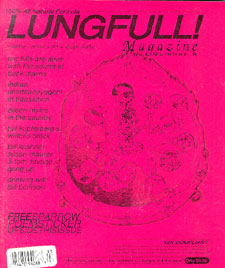 8 Autumn 1999: 100% All-Nautral Formula
Indran Amirthanayagam, Betsy Andrews, Michael Basinski, Bill Berkson, Elisa Biagini, Donna Cartelli, Jeff Conant, Jordan Davis, Buck Downs, Andrew Epstein, Brett Evans, Betsy Fagin, Joanna Fuhrman, Ken Hunt, Noelle Kocot, Tuli Kupferberg, Richard Kostelanetz, Bill Kushner, Brendan Lorber, Susan Marshall, Chris McCreary, Edward Mycue, Thomas Nousias, Mark Pawlak, Richard Martin, Susan Maurer, Jen Robinson, Tom Savage, Eileen Myles, Hoa Nguyen, Lytle Shaw, Julie Sloane, Ken Raines, Julie Reid, Sparrow, Mike Topp PLUS Letters & Poems to the Editor from people claiming to be: Jewel, Albert DeSilver, Chris McCreary, Allen Bramhall, Jeff Nelson, Ahimsa Timoteo Bodhrán & Eddie Berrigan. Also a manifesto from the editor, a rejection letter to the editor & an attempted coup from Asheville, North Carolina.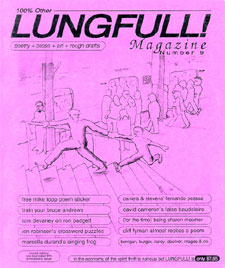 9 Spring 2000: 100% Other
Bruce Andrews, Brian Batcheldor, Charles Baudelaire, John M. Bennett, Anselm Berrigan, Geoff Bouvier, Philip Brunetti, Leslie Bumstead,,Mary Burger, Deborah Byrne, David Cameron, Tom Carey, Tracey Chiang, Chris Daniels, Albert Flynn DeSilver, Tom Devaney, Eric Docherty, Brett Evans, Cliff Fyman, Nada Gordon, Franci Levine Grater, Leah Ev Greenstein , Robert Hershon, Lynne Hjelmgaard, M. Kettner, Bill Kushner, Brendan Lorber, Michael Magee, Tim Marquis, Joe Maynard, Sharon Mesmer, Jeffrey Joe Nelson, Tom Nusias, Fernando Pessoa, Kristin Prevallet, Julie Reid, Jen Robinson, Julie Sloane, Dana Stevens, Shawn Walker, Susan Weinthaler, Karen Weiser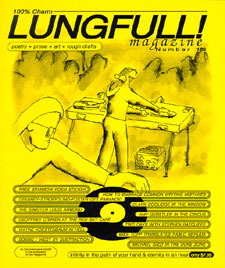 10 Autumn 2000: 100% Charm
Louis Armand, Jim Behrle, Charles Borkhuis, Matthew Burgess, Allison Cobb, Kyle Conner, Clark Coolidge, Tom Devaney, Brandon Downing, Tonya Foster, Amy Gerstler, Michael Gizzi, Lisa Gluskin, Sean Hansen, Bill Hudders, Paulus Kapteyn, Wayne Koestenbaum, Bill Kushner, Louise Landes Levi, Rachel Levitsky, Brendan Lorber, Jason Lynn, Jules Mann, Richard Martin, Susan Maure,r Tanya McDonald, Cynthia Nelson, Pablo Neruda, Geoffrey O'Brien, Stephen Ratcliffe, Dee Rimbaud, Jen Robinson, Stephen R. Roberts, Richard Roundy, Sal Salasin, Julie Sloane, Sparrow, Kathleen, Walsh Spenser, Chris Stroffolino, Mike Topp, Kevin Varrone, Bobbie : West
11 Autumn 2001: 100% Swing
Art, writing & rough drafts from: Lauren Acampora, Elena Alexander, Eric G. Amling, Kristi Bell, Anselm Berrigan, Brenda Bordofsky, Colette DeDonato, Albert Flynn DeSilver, Joe Elliot, Brett Evans, Cliff Fyman, Eric Gelsinger, Franci Levine Grater, Hector, Zara Houshmand, Philip Kobylarz, Noelle Kocot, Kathleen E. Krause, Susan Landers, Brendan Lorber, Tracey McTague, Michael Peters, Rusty Morrison, Wanda Phipps, Julien Poirier, Jen Robinson, David Rosenthal, Katie Ryan Roth, Jalal al-Din Rumi, Herschel Silverman, Sparrow, Elizabeth Treadwell, Edwin Torres, Paul Violi, Canon Wing, Deborah Wood
Letters from: Brian Batcheldor, Jim Behrle, Eddie Berrigan, Del Ray Cross, Richard Deutch, Brandon Downing, Bill Gates, Rachel Levitsky, Dr. T Jackson Lorre, Jules Mann, Pattie McCarthy, Carol Mirakove, Tara Needham, Kristin Prevallet, Julie Reid & The Retired Loris Guild
Features in the issue include stickers Zara Houshmand's translations of Rumi's poetry, printed in both English & Persian and Jen Robinson's Hieroglyphic Puzzle.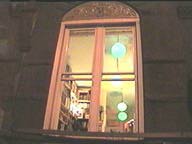 LUNGFULL!magazine
home * current issue * archives
in the house * submit * subscribe * faq's
special events * zinc * linkfull * contact us