Connecticut
BPW/CT
The Connecticut Federation is divided into four districts for the purpose of promoting state and national programs, promoting membership work and organizing new and assisting existing clubs. The districts shall afford a contract between clubs and the state federation.

Each district has a state director who is elected as a state officer at the annual state convention by the voting members of that district for a term of one year and who shall have served at least one year as a club president.

Our members are women and men from the four districts that cover Connecticut taking an active roll in organizing and attending meetings and lectures.
State Calendar 1997-1998
*State board meetings held at George's II Restaurant, Wallingford, CT @ 8:30am
Sat. 9/6 State Board Meeting
Sat. 10/18 Woman of the Year Luncheon - Torrington
Sat. 10/25 Individual Development Program (full day)
Sat. 11/1 State Board Meeting
Sat. 11/8 Professional Development Seminar (full day)
Sat. 2/21 State Board Meeting
Sat. 5/15 State Conference(more info to come)
The districts include (scheduled local meetings):

District 1- NeConn (2nd Tuesday), Norwich (1st Tuesday), Mistick River (1st Wednesday).

District 2- Litchfield County (1st Wednesday), Brookfield (gathering the details), Danbury (gathering the details), Bethel (2nd Wednesday), Newtown (1st Monday).

District 3- Glastonbury (2nd Wednesday), Greater Hartford (2nd Tuesday), New Haven (3rd Wednesday), Plainville (2nd Wednesday), Meriden (1st Wednesday), Wallingford (3rd Thursday).

District 4- Milford (4th Monday), Stamford(2nd Monday).
To find out more about a local meeting near you contact: tophat@li.com

Nutmeg Notes
The Connecticut Nutmeg Notes is the Official Publication of the Connecticut Federation of Business and Professional Women's Club, Inc.
Nutmeg Notes
76 Upper Main Street, Apt 6
Sharon, CT 06069

Conference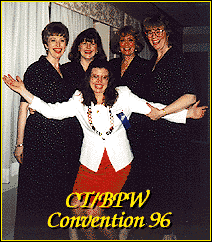 Reach for the Stars '97 Conference
May 16th and 17th

Farmington Marriott, Farmington, CT

Jodi Rell, Lt. Governor of Connecticut, Keynote Speaker
Join us in honoring all the ""
Barbara DeBaptiste

Lois Gardner

Laurie Hepburn

Dr. Ann Hines

Rebecca Lobo

Jodi Rell, Lt. Governor

Jennifer Rizzotti

Lenny Winkler, State Representative

Dr. Kristen Zarfos

Posthumously Honored as Stars:

Elizabeth George Plouffe and Martha Langevin Ellal of the Pequot Tribal Nation.
BPW/CT Scholarship Recipients:
Donna LaBranche of Pomfret Center, CT

Michelle Collins of Oakville, CT

Barbara Thorpe of Wallingford, CT

Carrie Reed of Milford, CT
BPW/CT Georgia Evans Scholarship Award Recipient:
Elizabeth Kollands of West Haven, CT