SKYWARN Q1 1998 Strategy Meeting Pictures
---

On February 26th, 1998, we had our quarterly SKYWARN meeting. We had
21 people in attendance and we went through our agenda to kick off
SKYWARN for 1998.


---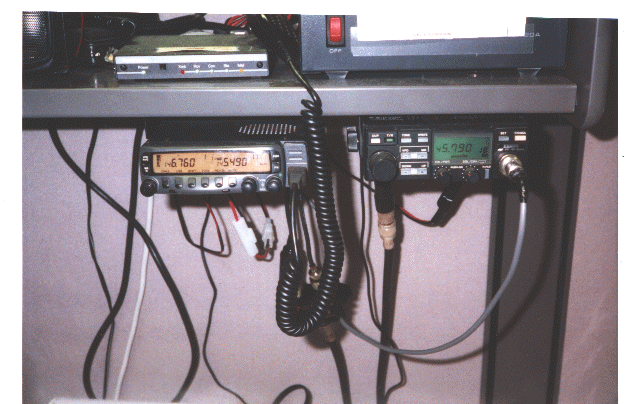 ---

The station at NWS Taunton featuring an Icom IC-28A tuned to the old
APRS frequency, and the Kenwood Dual Band 2 Meter/440 MHz radio. The
dual bander is capable of receiving two different 2 meter repeaters
when using both VFO's in the VHF mode. The radio can be switched
back to utilizing both bands at the touch a few buttons.

---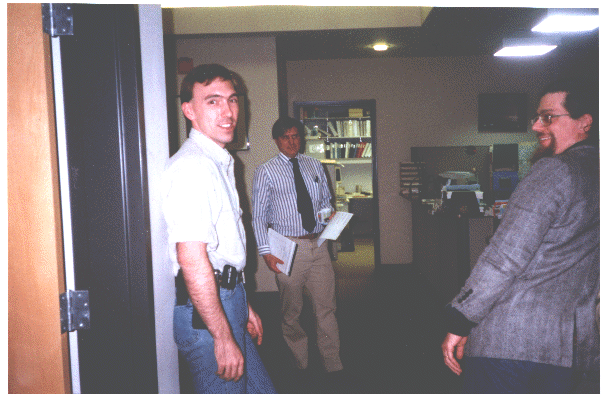 ---

This picture shows our new resident storm chaser from South Dakota,
William Dohr, KB0UYO, on the left, Bill Ricker, N1VUX, Alternate NCS
for Waltham and Danvers SKYWARN on the right, and Bob Thompson,
Meteorologist-In-Charge of the National Weather Service in Taunton
conversing as the meeting draws to a close.

---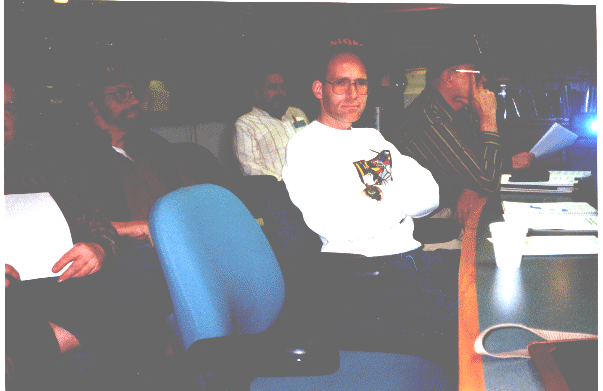 ---

This picture shows Eric Tuller, N1QKO, Western Massachusetts Assistant
SKYWARN Coordinator. Sitting behind Eric, is Lenoard Mathieu, N1PTG,
Assistant SKYWARN Coordinator for Connecticut, behind Len is Harvey
Broverman, K1PZS, Alternate NCS for the Soapstone Mountain Weather Net,
and next to Harvey is Bob Metivier, N1XZJ, NWS Taunton Radio Operator.

---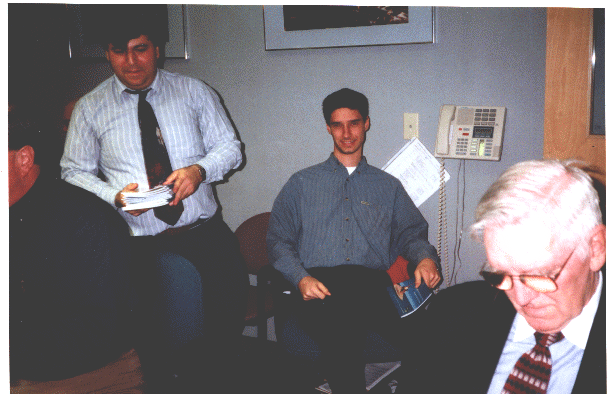 ---

This picture shows the Area III East RACES Radio Officer, Mike Baril,
N1PSE. Sitting in front of him is Howard Baker, W1JVW, NWS Taunton Operator,
and Walking around the table is Glenn Field, Warning Coordination Meteorlogist
for NWS Taunton.

---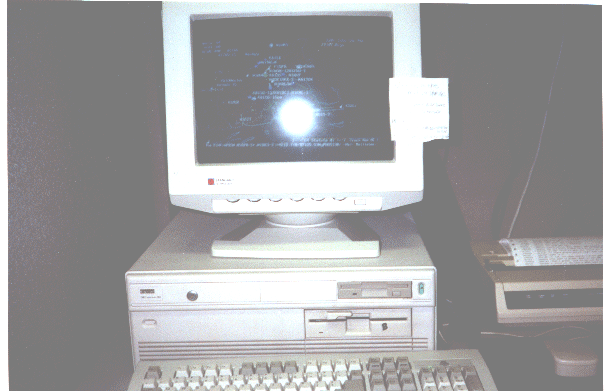 This picture shows our PC with APRS running. The computer system
comes complete with a mouse and a printer and we will soon be
utilzing it to send pages to SKYWARN Coordinators and Alternate
Net Controls.

---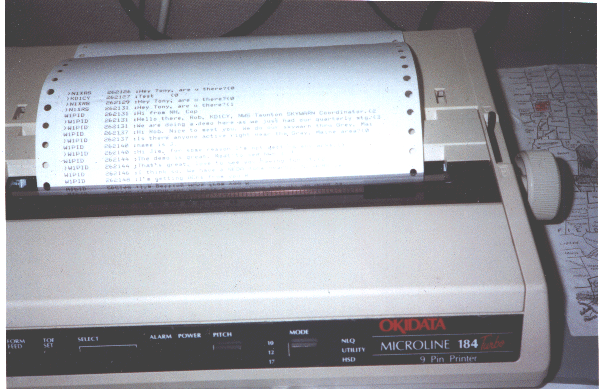 ---

Here is a closeup of the printer at the APRS station. Any message
sent or received to N1KML-1 will automatically print out on the
printer at NWS Taunton. This feature is useful in getting reports
via Amateur Radio when no ham is present at the station.

---
Back to the NWS Taunton SKYWARN Section
---
Back to the Eastern Mass. ARES/RACES/SKYWARN homepage