From
Nancy Trask Thomas
"Owner and Submitter"
---
CAPTION:

Judge Andrew Trask, his wife Melzinia A. (Moutray) Trask and 4 of their son's Fieldon Trask, Juluis Eramus Trask, Melvin Trask, and Napoleon Bonepart Trask youngest to the oldest. This was taken in Green Mountain Falls, Colorado (El Paso County) in about 1886. Andrew had worked in the mines of Missouri as a young man and had lung problems so they came to Colorado for a time to help out his lungs. Andrew was my great-great grandpa. He was a Judge in Missouri for many years!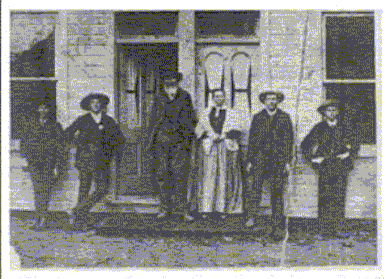 NOTICE
You may, freely, "cut and paste" our information into your word processor for personal use only.
You may extract specifically associated data into a non-commercial webpage if you link it to ours.
We would have serious objections with anyone attempting to sell any part of "our" passion for a profit.
All the bound books, formal papers, manuscripts and photocopied materials were submitted to us in "Good Faith".
We will diligently defend the contents of "The Trask Web Pages" from any exploitation for personal gain.

We have an additional 150 mb of Trask family information on hand.
Our Trask Library has well over three hundred donated items, i.e., books, periodicals and CDs.

If you did not find who your looking, need assistance or want to use "our" Trask family information - e-mail me.



Return to the top.



Thanks for visiting
"The Trask Web Pages"


Most recent revision: by RWT on Monday, March 25, 2002

http://users.rcn.com/rwtrask

© 9-15-1995 by R.W. Trask




rwtrask@rcn.com