Come Gentles All to celebrate the Coronation of Edward and Marguerite. Once again the Eastern Crown passes in peaceful unbroken succession on Saturday, April 10, 2010. The Barony of Bergental hosts these glorious festivities in the Tudor style of Henry VII at the charming First Congregational Church of West Springfield, site of the Bergental/BBM Yule.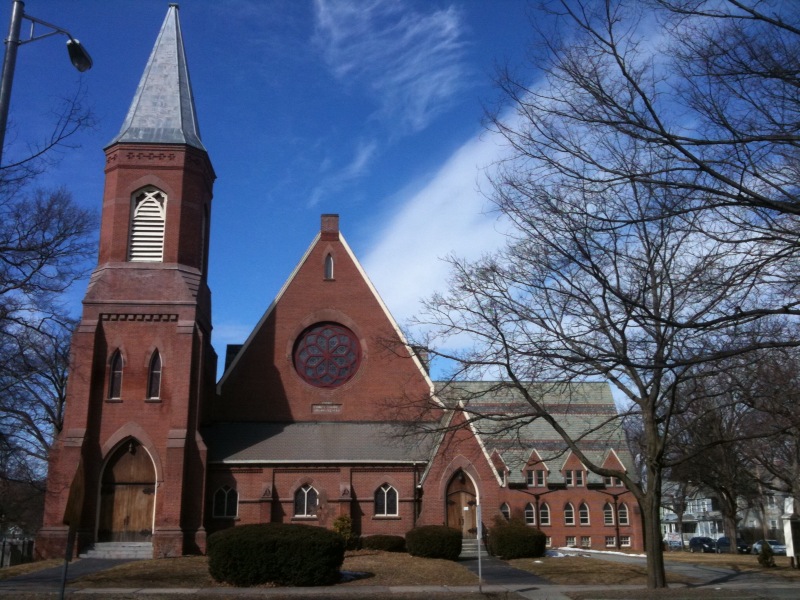 Our Court venue boasts beautiful stained glass and leaded windows, dark wood panelling and plaster walls, vaulted ceilings with gothic trusses, and ironwork chandeliers. In the Parish Hall, a balcony/musicians' gallery will be put to splendid use during dayboard and the afternoon games. The modern section of the church includes a charming traditional parlor for conversation and small classes, a large lobby, and the Fellowship Hall for merchants and feasting. The colors of the day are black, gold and hunter green, which will festoon the entire site.
The illustrious Last Court of TRM Konrad and Brenwen begins at 10:30 a.m. A simple and elegant dayboard prepared by Lord Severin of BBM will delight all those who choose to partake. Musicians, performers and merchants will ply their trades for your enjoyment throughout the day in several venues. Should the April sun smile upon us, a tournament will be held for the display of martial prowess. UPDATE: Use of the town green for the tournament has been denied. Instead, sections of church lawn are available for heavy weapons and fencing practices, as long as the weather cooperates. There will be an A&S display, heraldic consultation, a class or two in our Tudor theme, games and diversions, as well as a fundraising auction for the benefit of the Kingdom. There is a quiet activity room for families. The afternoon closes with the First Court of TRM Edward and Marguerite.
In the evening, a splendid feast of the finest English fare, prepared by Mistress Eleanore MacCarthaigh and the accomplished cooks of our region, will refresh you. Discreet alcohol and enclosed flame are permitted for the feast. A generous amount of offboard seating will be available. Performances by Concentus and Fracta Modi will delight you. And we will toast our new monarchs, celebrate our good fortune and spend the evening in high style and revelry.
Autocrat:
Mistress Pagan Graeme--Yolanda Graham, cell 413-364-0039, email mistresspagangraemeATyahooDOTcom
Baroness Jovonne d'Esprit--Jovonna Van Pelt, cell 413-427-4855, email jovanpeltATcomcastDOTnet
Other Contact Information:
Merchants and Performers, please contact Lady Emma--Nancy Nummy, cell 413-885-9292, email nanon58ATyahooDOTcom
A&S Display inquiries, contact Lady Henna Sinclair, email countessinnATverizonDOTcom

Fleur-de-Lis done by Baronne Elwynne de Wentworth
Website design by Lady Brangwyne of Wentworth