This bread is one of my favorites! I love the contrast of the sweet raisins and molasses with the savory caraway flavor.

WELSH BREAD- Conventional bread method
Source: The Best Bread Machine Cookbook Ever: Ethnic Breads
M. Rosenberg, HarperCollins Books, 1994
(Adapted for conventional method by Mimi Hiller)
~~~~~~~~~~~~~~~~~~~~~~~~~~~~~~~~~~~~~~~~~~~~~~~~~~~~~~~~~~~~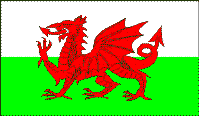 Click here for Automatic Bread Machine version


INGREDIENT		SMALL LOAF	LARGE LOAF
milk			2/3 c		1 c
brown sugar		2 T		3 T
active dry yeast	1.5 tsp		2-1/4 tsp
whole egg		1		1
egg white		0		1
unsalted butter		4 T		6 T
distilled white vinegar	1 tsp		1.5 tsp
salt			1/2 tsp		3/4 tsp
molasses		2 T		3 T
bread flour		2 c		3 c
baking soda		pinch		1/8 tsp
caraway seeds		1 tsp		1.5 tsp
raisins			3/4 c		1 c


Heat milk to 105-115F.
Stir in brown sugar and yeast; let stand about five minutes, till foamy.
Add egg and, if using, egg white.
Beat on medium about two minutes.
Melt butter; add to milk with vinegar, salt, and molasses.
Beat about 5 minutes, till thick.
Add 2 cups of flour, baking soda, and caraway seeds.
Beat on low one minute; then beat on medium with dough hook for 7 minutes.
Add the rest of the flour, 1/4 cup at a time.
Beat another 5 minutes.
While this is beating, plump raisins in enough boiling water to cover.
Drain raisins well.
Add raisins to dough, with mixer on low, just long enough to incorporate them.
Remove dough to floured board and knead till smooth, incorporating only enough flour to make the dough lose its stickiness.
Form the dough into a ball and place in a greased bowl.
Cover and set the bowl in a warm place to rise, about 1-1/2 to 2 hours.
When dough has doubled in size, turn out on floured board and knead again, about two minutes.
Form into loaf and place in loaf pan (or pans).
Cover and let rise again, about 45 minutes to an hour.
When dough has doubled, bake in a preheated 350F oven for about 40 minutes.
The bread is done when it sounds hollow when tapped on top.
---
Updated: December 21, 1996
Comments or questions? Write to me at suemaster@interport.net. (: remove "master" from the address)
Return to Main Food Page
Return to Curly Sue's Home Page