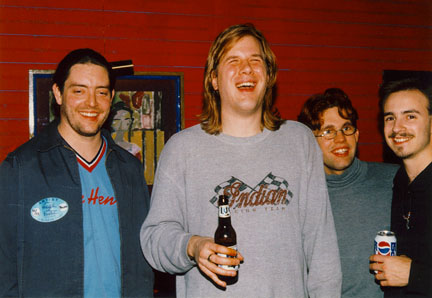 The Buzz's Frank Blinkal, Chris Bernhardt, and Jay Moynihan with Jeff Healey (in front).

T h e B u z z P r e s s




The Buzz
"Live At Buddy Guy's Legends"
4 Stars
Buddy Guy's Legends Bluesletter Sep/Oct 2000

It was just past 2 a.m. when The Buzz's latest album, "Live at Buddy Guy's Legends!" found my car's cd player. Thankfully the Eisenhower Expressway was wide open because moments after the first track, "Let's Buzz" started to spin, I could not keep my foot from pounding down the accelerator.

Breaking the speed limit was inevitable as the song may suggest, "I like to jam it to the floor and make the big motor roar." Along with the catchy melody of "Let's Buzz," a moderately-paced, lumpy Chicago shuffle, let's just say the trip home was achieved in near-record time.

Jay Moynihan rips and roars his way through the song (as he does on all seven tracks) on his tenor saophone, giving The Buzz that back-alley, ass-kickin' Chicago sound that just isn't around much anymore. The album's second track, "UGH!", is much like the first but with more of a smoother rock flavor as Frank Blinkal tears through guitar licks with fury. The shuffle-styled verses are met up with a chorus and solos that touch a bit on swing without losing its gutsy feel.

One of the most interesting songs on "Live at Buddy Guy's Legends!" the fifth track, "Jack & Jill," a Buzz original. It consists of an Albert King style groove that forces you to move. Along with original lyrics that are refreshing from the ol' "Damn my woman, lost my job and I'm red-beans-and-rice-poor" type of thing. No, "Jack & Jill" lends a nice look at where the young Chicago blues artists are headed and it might not be a bad place to be if this song is an indication.

Up third is the funky "Big Leg Woman" which captures a tight groove feel without going overboard. It's an easy track to find yourself nodding your head and swaying your shoulders back and forth to the beat. The Buzz then transition seamlessly into Otis Rush's "Double Trouble," putting a soft touch on their otherwise butt rocking album.Perhaps the song went on a bit too long but Blinkal does a sufficient job keeping your interest with smooth phrases. Moynihan's handy work on the piano fills in the cracks until he picks up his horn and blows his heart out.

"Live at Buddy Guy's Legends!" is a great way to satisfy that hunger for the new sound of Chicago blues. Definitely a keeper.
Larry Anderson


---


This Chicago based band is super hot like a playboy centerfold. If you want to know how to move the crowd and sell units just take notes from this band. .....I can go on and on to the break of dawn about this band but I'll let you check them out yourself. To all label representatives this is a major retail "already" made package.We're going to hit The Buzz with 5 mics the maximum.
basslinebuzz.com industry newsletter May, 2000


---


Buzz's Buzz
It's been three years since The Buzz released its debut record, and for a labell-less band, its doing quite well. According to bassist Chris Bernhardt, the band sold 5,000 units of its self-produced CD [Highway, sacr2071], and had 1200 hits on their MP3 the first six months it was available. More impressively, however is the fan they've found as the regular Monday night performer at Buddy Guy's Legends. "Buddy himself has come up and played with us three times now," says Bernhardt. And he's apparently more than just a casual fan: after Guy's traditional month-long run of concerts at Legends in January (The Buzz opens for him January 7), and after the Buzz returns from touring in February and March, Guy is taking Buzz guitarist Frank Blinkal on the road with him as a touring guitar player. The Buzz has kept plugging away, and it would appear that the band's patience is starting to pay off.
by Dave Chamberlain, New City (Chicago), 12/16/99


---


"The Buzz: All Highways Lead Back Home"
The roads of middle America seem to be less and less traveled by Chicago's young bands these days. Years ago, Kerouac made being On The Road a rite of passage for a generation of youth yearning to explore and search for meaning. I had an opportunity to catch up with The Buzz' frontman, Frank Blinkal for some low-down on the band's recent travels as a blues-rock export from the local scene.

The band's Highway release was reviewed by yours truly earlier this year and still remains one of this year's best local releases. The band, including Blinkal, Chris Bernhardt (bass), Mike Rodbard (drums), and Jason Moynihan (reeds/keyboards), blends multiple genres and has created an evolved blues/rock hybrid that was ear catching enough to help them win WCRX's Rock Off Competition and finish runner-up in Buddy Guy's Legends' Blues Talent Search. And this is quite a surprise since The Buzz can hardly be considered simply a blues act.

If you've caught them on their own or as opener for national heavies like Jeff Healey, Chris Duarte, Storyville, or Chuck D, its obvious that this is a band worthy of the hype they've earned.

"Rev." Ody: "I haven't rally heard from you since Highway came out. What have you guy's been up to?"

Frank Blinkal: "The band's been busy since Highway came out this past April. We had averaged 100-150 dates per year until that point, but at our current pace, it looks like we'll hit 200 dates this year."

"How does and independent act like The Buzz manage to get booked with such frequency? I know acts at the major label level who would be happy just getting half as many gigs per year."

"We've been playing many of the same gigs 3-4 years now, and it's to the point where the band is doing their fifteenth date at some of these venues. So through persistence, enough of a following has been carved out. Despite its size, Chicago's scene can only support a band playing a handful of dates a year, unless you're a cover band. But this ain't "Murph and the Magic-Tones" at the local Holiday Inn. The Buzz relies heavily on the college market in towns like Des Moines, Iowa City, Madison, Champaign-Urbana, and Bloomington. We developed this college support long before we ever had a release out. It was the kids saying, 'Do you guys have a CD that we can buy?' that made us commit to getting a disc out."

"Was your primary intent to be able to sell CDs from the bandstand?"

"The Buzz is to the point where we get a pretty decent guarantee fron the clubs we play at, but merchandise and CD sales can greatly enhance our take-home pay and get our message out to an expanding fan base. In the process of returning for re-bookings, we were getting requests from many of the college radio stations to have copies of Highway for regular rotation. That really floored us because since I've started keeping track there have been 200 college and commercial stations that include us in middle-heavy rotation on their rock & blues shows with songs like 'Chickenhead', 'Never Gonna Change', 'Long Way', 'Drunk in Iowa', and 'Texas Love Song'.

"So what are your guys? A blues, rock, or funk act?'

"We're all those things. Every member of the band has musical tastes that cut across all of those categories. Why should we have to pick just one genre when they're all so good? As a guitarist from Chicago, my first love has always been the blues, and I've been influenced by all the greats: Muddy (Waters), Buddy (Guy), and Otis (Rush). Their music gave me the influence to get to this point in my career, but it would be a lie to say that bands like Led Zeppelin and Parliament haven't been an equal influence as well. On Highway, we cover 'Chickenhead' by Bobby Rush. Now he's a blues singer straight off the chitlin' circuit. [the horn line is a miles davis line]äMiles Davis remains a big influence on our horn player Jason Moynihan. So you tell me, what kind of band are we supposed to be?"

"You used to manage Buddy Guy's Legends. Tell me about that."

"It was the best job in the world. Where else can you hear all the stories about Chicago blues music other than from 'the man' (Buddy Guy) as well as meet a who's who in the blues? It just got to a point where I wanted to travel with my band and you can't manage a club like legends part time. Buddy has always been real supportive and he's even let The Buzz open for him out on the road. We'll be playing at Legends on the night before Thanksgiving.

"Highway has been a disc that gets quite a bit of play on my stereo. What was the recording process like"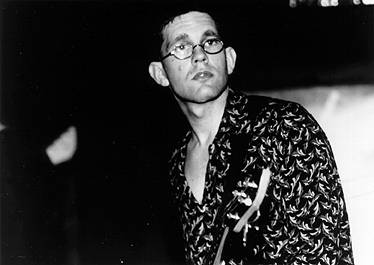 "When we won the 103.5FM Rock Off, it came as a complete shock to us because the stations tastes run more on the heavy side. The judges liked the rawness and rock-edge of our sound and the station's fans were obviously very supportive. As winners, we got studio time at 35th Street Studios with Rick Barnes engineering. The band wanted to capture our live sound and we kept things pretty simple with set up. With recording and mixing, the project took less than a week."

"Not quite as glamorous as you thought it would be, huh?

"Not as glamorous, but this is real and it's happening on our own terms. We didn't record an album, do two showcases and get signed to a million-dollar record deal. This is reality and we're making it in a real world. At this point in time, we may only be considered a bar band, but this is how I want to make my living. You take small steps every day and become a better businessman. You're in control of your career. Plus, it's gotten us on The Jenny Jones Show (laughs).

"Is it difficult to primarily handle all of your duties as bandleader, booking agent, and record promoter for the band?"

"Of course it is, but it's hard to find anyone that will be as passionate about your work as yourself. We've been lucky in connecting with Baker and Taylor Distribution who are working the record. Their subsidiary, V&R Records, has gotten the release into all of the major record and internet chains which takes a tremendous weight off our backs. These are avenues that would have taken a long time to develop on our own. And with these resources, we're hoping to double our current sales of about 4,000 copies sold."

"Are you planning your next release already?"

"We've been working on new songs that we develop via our live show. It's an evolutionary process that our music takes from being written to being record-ready. We like to 'road test' our music in front of people to see how they respond. It takes longer but you feel a whole lot more confident when the tape starts rolling. We've got enough material for a new release, but all of our goals for Highway have not been met. When that occurs, we'll start pursuing interest by major labels.

by "Reverend" Odysseus Johnson, In The Mix (Chicago), November, 1998

---
WHAT JENNY JONES AND CHUCK D HAVE IN COMMON . . . Chicago group The Buzz to play Hawkeye Music Festival
They've managed to impress everyone from Jenny Jones to Public Enemy, and they've written a song about being drunk at Riverfest. The Buzz' roots, however are in the blues.

"We really got our name from the old blues song 'Let's Buzz'," Frank Blinkal, lead singer of the Chicago quartet The Buzz, said. "I was writing songs with Chris Bernhardt and John Hanrahan while we were backing a blues band led by JC Clemens. JC liked the Buzz name and it just kind of stuck with us," Blinkal said.

The Buzz will perform Sunday at the Johnson County Fairgrounds as part of the first-ever Hawkeye Music Festival. Other bands performing include Big Bad Voodoo Daddy, Everclear, and MU330.

In 1995, Blinkal, Bernhardt (bass and vocals), Hanrahan (drums), and Jay Moynihan (saxophone) fromed The Buzz in Chicago and have been touring and recording ever since. "We're a rock band with a heavy blues influence," Blinkal said. "Our influences really go all over the place. We enjoy blues artists, heavy rock, jazz, and R&B. A number of artists have influenced our sound, from The Rolling Stones and Bruce Springsteen to today's contemporaries, such as The Wallflowers."

The band's wide musical range has allowed them to open for everyone from Buddy Guy and Jeff Healey to The Flaming Lips and Chuck D of Public Enemy. Noted for their raw energy in concert, they play about 150 shows a pear, ranging from the roadhouse to college and festival scenes. They've become a staple at Buddy Guy's Legends and have played Chicago's House of Blues on a number of occasions. Touring the country even allowed the band to appear on the Jenny Jones show earlier this year.

"We were the house band on two shows of hers this year," Blinkal said. "The first was a show entitled 'Women too Sexy to Date'. They liked us so much that the producers of the show brought us back again on an episode that was a take-off of the old 'Lets Make a Deal Show'. In all, it was really a wild time."

The Buzz are touring behind their new release, Highway, which has gained airplay on over 200 AAA and college radio stations. A victory last year in a Chicago-area battle of the bands contest won The Buzz 40 hours of studio time, which they used to record the album. Produced by Rick Barnes, who has worked with such acts as Billy Idol and Liquid Soul, Highway incorporates a full pantheon of musical styles-from rock to funk to experimental blues- into 15 noteworthy tracks. "Drunk in Iowa", one of the record's most lighthearted numbers, pretty much wrote itself, according to Blinkal. "We were in Iowa City playing at Riverfest and the engineer we had helping us with our show blew up something in our sound system and for quite a while we had nothing else to do but relax and have a few beers," Blinkal said.

On top of "Drunk in Iowa", Highway also features the gorgeous "20/20", The anthemic "Texas Love Song", and the sad and personal "It'll Be Alright", written as a tribute to a friend of Blinkal's who died too young. Covers of "Keep on Lovin' Me" by Otis Rush and "Chickenhead" by Buddy Guy show the Buzz' mastery of fast vibrant shuffles. "With Highway, we set out to make a record that was easy to listen to from tracks 1-15," Blinkal said. "We like to incorporate a lot of heavy groove-oriented songs . . . we were [also] very experimental musically while recording this record."

As for what can be expected when The Buzz appear at the Hawkeye Music Festival this Sunday, Blinkal said that fans should expect plenty of improvisation. "We like to mix our sets up every night," he said. "What we really like to do is play songs that are unfamiliar to our audience. We keep some of the original structure of the song and yet try to add our own spin to it."

According to Blinkal, the band thrives on live shows. "What we enjoy about touring is being able to interact with the fans," he said. "It is something special to go into a venue and know someone on a first name basis." The ongoing tour has allowed Blinkal and his band mates a chance to reflect on their place in today's music scene. "We are a grass-rooted band and we appreciate being in that position," Blinkal said. "We've rally carved out our own niche in the marketplace."
David Small, Iowa City ICON, September 10, 1998
---
The Buzz Is On The "Highway"
After spending three years touring the country on their own and winning a contest sponsored by ROCK 103.5 , Chicago's very own The Buzz is making headway. The four piece band has opened for acts like Flaming Lips, Liquid Soul, Government Mule, and Buddy Guy, and have just completed their third studio album Highway.

The album opens with a funky cover of Otis Rush's "Chickenhead" and is highlighted by guitar driven numbers such as "20/20" and "Never Gonna Change". If you are looking for a mellow tune, look no further than "Drunk in Iowa", a soft look at trying times. "Like I'm running down a hill at full speed/never knowing what's ahead of me/ and I feel like part of Custer's last stand/ a foolish man with a foolish plan/ Lord I'm drunk again," sings guitarist/singer Frank Blinkal.

The Buzz captures their audience with a heavy guitar sound backed by a solid rhythm section. However, saxophonist Jay Moynihan is the true star, letting it rip throughout the CD with impressive solos and killer fills. The saxophone is a perfect touch for this roots rock combo that provides a touch of funk and soul to their music.

The most impressive thing about The Buzz is their ability to appeal to many different audiences. Their music can work in a rock or alternative setting as well as carry over to a blues club. It is nice to hear a band that sounds as unique as The Buzz as opposed to hearing the same old screaming idiots that the radio delivers us.

The Buzz are living proof that a band can have a successful music career without a major label behind them. The combination of hard work and good music makes The Buzz a great band that is worth an honest listen.
Dave Dixon, staff writer, The Leader, Elmhurst College, April 27, 1998
---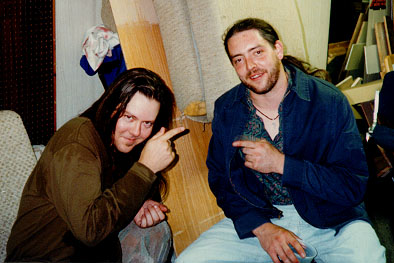 "Friday, May 1, RIBCO will be buzzing with a new Chicago-based rock and blues band known as The Buzz. The Buzz has been together for around three years and has recently released their first full length album, Highway.

The four man band is composed of Frank Blinkal, vocals and guitar; Chris Bernhardt, bass and vocals; Jay Moynihan, saxophone and keyboards; and Mike Rodbard, drums. Despite the seeming run-of-the-mill set-up, the band's instrumentation is put together in a wildly innovative and energetic format that has earned them acceptance in blues, rock, and alternative audiences.

Blinkal's raspy voice contrasted by Moynihan's smooth sax riffs and Bernhardt's powerful bass lines creates a sound which captures the energy of a live concert within their 15 track album. Opening with a homemade radio buzz, the band moves into the jazzy, funk-blues of 'Chickenhead'. With a rhythmic bass line and full horn sound, this opening song illustrates the band's potential to enliven whatever venue they might play.

'Long Way' and '20/20' continue the power of the opening songs and present forceful guitar riffs that can only be qualified as hard rock. However, The Buzz throws in a few classic-rock style keyboard lines along with various saxophone solos, which propels the band's talent into an area all its own. Unable to be limited by boundaries of blues or rock, Highway demonstrates the band's ability to play diverse styles of music while still maintaining the integrity of their original blues based beginnings.

In quite a different arena though are 'Story of Bill' and 'Keep On Lovin' Me' whose horn arrangements and up-beat tempo creates a hard rock version of swing. At times it seems almost jazzy, but a short guitar explosion with wild and powerful keyboarding in the background give a constant reminder that this band cannot be contained within a single musical category, even for one song.

In contrast to the buzzing 35 second introduction, Highway's last track 'Drunk Acoustic' presents a slower, more contemporary version of blues that closes out the album quite well. It tells the sad and familiar tale of a sorrowful singer who has once again been sobered up by his own alcohol related experiences, nevertheless making clear that his journey on the great highway of life will keep on rolling.

The Buzz has opened for various acts ranging from Liquid Soul to The Flaming Lips, to Buddy Guy, and even rap artist Chuck D. This range is testimony to the band's ability to capture the attention of different audiences while still playing the type of music that has made them a success. Highway was released in early March and has been so successful thus far that the band hopes to play around 180 shows this following year.

The name is certainly appropriate due to the fuzzy and heavy guitar music that is characteristic of the band, but it also illustrates the very distinctive hum that lurks about the air. The Buzz is certainly creating a static of their own and May 1 at RIBCO, they will bring their powerful sound to the Quad Cities. There are many stops along the highway of life and this may be just another one, but it is certain to be the type of stop that leaves you on the road you travel with a little more bounce in your step and a buzzing blues singing in your soul."
Adam Malak, The Observer, Augustana College, Rock Island, IL, April 24, 1998
---
"This local Band has a keen bluesy funk-rock sound that enhances an interesting repertoire. The tempos and rhythms of the recent release 'Highway' tell and intriguing musical story."
Mary Houlihan-Skilton, Chicago Sun Times, April 10, 1998
---
"It probably isn't a bad idea to catch The Buzz at your local watering hole. Their new CD Highway features 15 cuts that are surprisingly funky and fail-safe, with songs like 'Pablo Cassal' and 'The Lovin' You Need' spotlighting skillful sax solos that are sure to please even the most finicky fan . . . this capable quartet could easily mature into one of the hottest bar bands around town."
Jeff Berkwits, Illinois Entertainer, April, 1998
---
"It should come as no surprise that Highway, the impressive debut release from Chicago blues/rock quartet The Buzz, is a musical testament to Americana. After all, bandleader Frank Blinkal helped put Buddy Guy's Legends on the map. As manager, he brought an impressive array of blues, rock, and heritage acts to the venue. Undoubtedly, he was doing some serious note-taking in the process. Starting with its cover photo of a '51 Chevy Powerglide, Highway oozes roots and pedigree while taking you on a musical journey through America's heartland.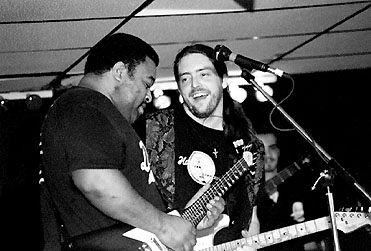 The CD opens with a tribute to the king of late night blues radio, the wizard of overnight blues grease himself, 'Mr A.' of WNIB/97.1 fm. Starting with the opening wah-wah riffs on Bobby Rush's 'Chickenhead', I cranked the stereo to 11 and proclaimed 'Goddamn!' I have seen the band in a variety of venues and remain particularly impressed with the performance of horn player Jay Moynihan. His thoughtful arrangements remind this listener of influences ranging from Miles Davis to Johnny Reno & The Sax Maniacs. But the center-stage belongs to Frank 'Bang' Blinkal whose whiskey-wine-and-women vocals and six-string slinging courtesy of Leo Fender are particularly impressive on this release. Original compositions like 'Never Gonna Change', 'It'll Be Alright', 'The Lovin' You Need', and 'Texas Love Song' seem like old friends, even at first listen. They hint elements of Stevie Ray Vaughn, The Fabulous Thunderbirds, and even Buddy Guy, but never distract the listener from the band's individuality. While maintaining a diverse repertoire, The Buzz' strong versions of the Otis Rush live staple 'Keep on Lovin' Me', and the Eddie Boyd standard 'Five Long Years' underscore the band's obvious links to the blues.

The Buzz are a particularly impressive band that have always delivered the goods live, playing 150+ gigs a year on the roadhouse, college, and festival scene. They are so impressive that Rock 103.5 and Guitar Center selected them as Chicago's top band, and provided the studio time and CD mastering that helped bring this release to fruition. It should come as no surprise that top Chicago bandleaders have come knocking, cash in hand, seeking Blinkal and Moynihan's services. Turning down potentially lucrative offers to join Otis Rush, Buddy Guy, and even The Big Swing has only solidified the band's determination to stay together and maintain its vision. If Highway is any indication, don't be surprised to see their next release at the major label level."
Odysseus Johnson, In the Mix, March, 1998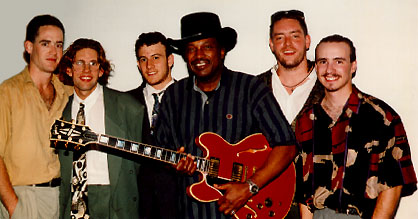 ---
"For anyone who knows The Buzz as a live band, there is a moment of curiosity before listening to its debut CD Highway for the first time: Have they managed to bottle the improvisational fury of its live shows into studio material?

The Buzz seem to answer the question right from the very first single 'Chickenhead'. Immediately following the subtle marijuana reference in the intro, this song cuts into context with its killer wah-wah guitar riff and predisposes the listener's ear to an hour of funky and dark R&B hooks straight out of Chicago.

These gentlemen are, for starters, excellent musicians. Frank Blinkal, guitar and vocals, is the punk-rock consciousness of the band and the man behind The Buzz's distinctive riff hooks. Chris Bernhardt is a virtuoso bass player and the glue that keeps the live sound together. Jay Moynihan's zebra-patterned saxophone takes its turn ad-libbing in the purest sstyle of Chicago Blues, while the relatively unobtrusive but punctual rock drumming of John Hanrahan sets the environment for the other three to invent.

Though songs like 'Drunk in Iowa', 'The Lovin You Need', 'Pablo Cassal', and 'Texas Love Song' are especially noteworthy, Highway is one of those CDs that needs to be left on for its entire length in order for the listener to fully absorb its smoky and fascinating atmospheres. Strongly recommended to those who love the big bad R&B style: No one locally does it as well as The Buzz."
Bruno Basile, The Daily Cardinal, March 4, 1998