Welcome to this hastily thrown together site for the Bendesky family.
This Bendesky family website will grow as events unfold, and we proudly display our family achievements on this virtual refrigerator.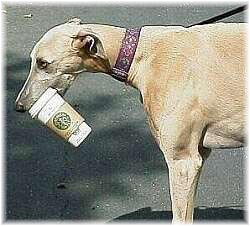 The secret of a greyhound's speed
If I had time, that's what this site would look like — a picture of a refrigerator, with all sorts of pictures and papers and macaroni art affixed with colorful magnets. Clicking on a document would bring up the page that proudly proclaims our daughter Seneca's acceptance to Wagner College, or our son Blake's school volleyball games.
But alas, I don't have all that spare time, so you'll just have to be impressed with the idea. (There's an entire School of Art that only conceptualizes the finished product, so I'm in well-established company. Admittedly weird company, but well-established company.)
Perhaps you're looking for the MP3 file of chimpanzees doing the Red Rose Tea commercial? Or maybe a picture of a dog that really ate someone's homework?
Enjoy your brief stay. Someday this Bendesky family website will get larger. One day you'll never find your way out.
[ sitemap for search engines ]
---
© Robert Bendesky 2006
All Rights Reserved