Gini Wilson, Paul Breslin, Pam Purvis, Bob Ackerman, Brenda Boykin, and Doug Arrington at Stars
We went to Stars, a restaurant in San Francisco, twice recently - once just to see Gini Wilson at her piano, with Paul Breslin (see photo at left by Haybert K. Houston) on bass. The second time, Gini invited us to hear Pam Purvis of New Jersey.
The room is bright, much unlike other restaurants that emphasize ambiance and don't let you see what you're eating.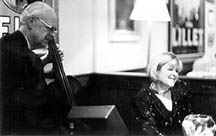 Stars has elegant wood paneling and pillars as decor, and the walls above the panels are painted white. The kitchen is open, and one can see the red-capped chefs and cooks busying themselves around the stainless steel room.
In the early evening, Stars is primarily a restaurant, not a concert hall. However, as Jazz lovers have long known, if you stay long enough and late enough after the dinner guests depart - you'll get a dose of Gini's fantastic piano playing and a lot of other memorable moments. She has a charm, a sense of humor, and also the technique of a classical pianist that shines through. She would honor requests, with or without a chart. Haybert challenged her with "Goodbye," and she delivered with squeezable passion. At the request of a guest, she even seamlessly played "Clair de Lune," which she declared she hadn't played for seven or eight years! Oh, what a treat! What talent! Breslin said Gini can play anything she hears.
Well, Breslin was no slouch himself. He was right along beside her, creating a swinging bass line with a strong rhythm that didn't require drums. His fingers are nimble and creative.
When we went to hear Pam Purvis, it was Dan Zarzone instead of Paul Breslin on bass. Pam's husband, Bob Ackerman (see photo below at right by Haybert K. Houston), sat in with his alto, tenor, flute, and clarinet. We found out that not only is Bob Ackerman wonderful on all those instruments, he is also an expert on their manufacturing techniques and history. The House of Woodwinds in Oakland bought some of his custom-made mouthpieces!
If I were to use just one word to describe Ackerman's playing, that word would be gentle. But more than that, his flute playing is also elegant. He was smooth in "Autumn Leaves," while Gini added a Bach-flavored solo.

From what I could hear of Pam Purvis singing "Bye Bye Blackbird" over the very noisy dinner crowd, I'd say her tone is accurate and her feelings and emotions come across very nicely. She kept swinging under very adverse circumstances. She scatted on fast pieces like "Route 66," dueting in harmony with Ackerman, and yet her ballads could touch your heart, especially on "More Than You Know."
As the dinner guests thinned out, and Doug Arrington showed up with his portable sound system, the scene changed. The ones who are into the music -- like myself and our publisher, Bonnie and Paul Swinderman and their daughter-in-law, a couple who had heard Pam Purvis's recording and came deliberately to hear her, and Doug Arrington and Brenda Boykin [JN, April and July 1998] all stayed behind and huddled close to the musicians where we could get a closer listen. I especially like her ballads which can swing and yet touch one's heart. But she can scat equally well with much skill, accuracy, and imagination.
Doug Arrington sat in with "I've Got the World on a String," and "The Nearness of You," all reminding me fondly of the singing style of Scotty Wright. Brenda Boykin offered "Don't Get Around Much Anymore" with much humor and class. Let's not forget that Gini Wilson had all this time eloquently accompanied these singers; and thanks to Doug Arrington's sound system, we finally got to enjoy the vocalists.
by Stella C. Brandt
Wally Schnalle's CD Release Party
Drummer Wally Schnalle introduced his new CD, That Place, at Pearl's in San Francisco. The CD and the event featured Charles McNeal on saxes, Rob Fisher on bass, and Jeff Pittson on piano.
When I walked into Pearl's, the piece "Brujo" was in full swing. It was a swift piece that featured Charles McNeal primarily on soprano sax with Wally kicking and stomping on the drums, pushing Charles to great heights. The group was very tight and seemed to like that tempo. Charles's alto solo had a contemporary edge on "Tony," a piece dedicated to Tony Williams. Unlike Tony, Wally's participation in that piece was subtle. I looked around the audience and was surprised at the fact that the audience was very young -- twentyish and under. I assumed that Charles was playing to the audience. Jeff Pittson is such a good piano player. He seemed to provide the glue that held the band together as a cohesive unit behind Charles. I really like the group, and they proved that they can play all over the Jazz spectrum. When they got into "You Got-We Got," Charles was into a very avant-garde mode that took the rest of the group in that fast-clip direction. I hope this group gives me an opportunity to see them more often.
by Haybert K. Houston
---