Albatross III
by Dustin Shuler, 1994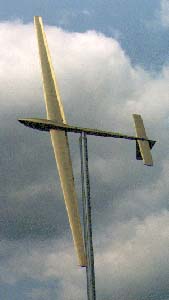 Besides tracking automobiles for their pelts, or stacking them one on top of each other, artist Dustin Shuler can create objects of extraordinary beauty.
The very essence of flight is conveyed by the graceful motion of this golden airplane. And it is powered only by the wind.
Dustin Shuler was born in 1948 in Pittsburgh, Pennsylvania and now lives and works in the Los Angeles area. He has similar works in the de Saisset Museum, Santa Clara, California; the Department of Motor Vehicles of the State of California in San Jose; and the San Francisco Parking Authority in San Francisco, California.