Remembering the Rutland - Modeling the Rutland
---
Boston & Maine RR RPO-Baggage No. 3119
Modeled in HO Scale by Jim Dufour
---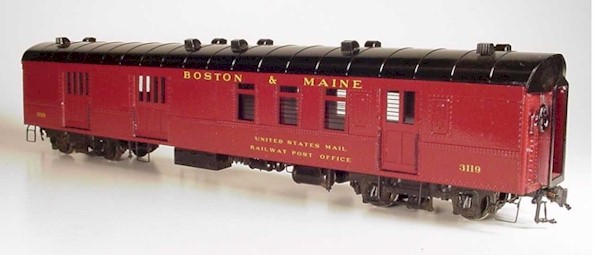 Image: Doug Goodwin
---
This is one of those cars that every modeler of Rutland passenger trains wants for their consist book, and I was no exception. It doesn't hurt that I am an avid B&M modeler as well. It is a documented fact that this particular car was on the overnight Mount Royal on a regular basis, running up from Boston through Bellows Falls to Rutland. At Rutland it was combined with the New York section for the run to Montreal. The next night the process was run in reverse. (I've always wondered why there isn't another equally well documented car that would have run on the alternate nights.)
Before Steam Shack came out with a resin kit for this car, the only way to build one was to kitbash or scratchbuild it. I decided to kitbash it one day while studying plans for this series car in the Spring 1983 B&M Bulletin, the magazine published by the Boston & Maine Railroad Historical Society. At the time I had a Rivarossi streamlined RPO in my pile of "sacrificial lambs" - car bodies and parts available for such projects. I realized that by carefully cutting the car into sections and re-combining them, one could wind up with doors and windows in the proper locations. It took five individual sections cut from three cars to end up with the car body shown in the photo. Most of the cuts were along window or door lines, which aids in concealing them. One is covered by a rivet batten strip. It doesn't hurt either that they were done on a Bridgeport milling machine by my good friend Chuck Spence. The floor of the Rivarossi car was machined clean by Chuck as well.
The doors and windows were all scratchbuilt using Evergreen styrene. The roof is from Con-Cor, a shortened and reshaped streamline roof. Those unique and characteristic ends were fashioned from Evergreen styrene. The roof vents are from a Bethlehem Car Works kit, not perfect for this car, but the closest that I could find. The stirrups were formed and soldered from Scale Scenics flat nickel silver wire (.030" x .010"). The trucks are Cape Line and are no longer in production. The usual assortment of Details Associates, Precision Scale and Cal Scale parts populate the ends and underbody, as well as some Eastern Car Works items.
The car was painted by my good friend and mentor Tom Speidel. I did the lettering using Accucal decals, which unfortunately were a bit undersized for this particular car.
-Jim Dufour
---