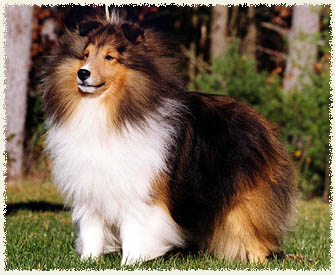 Jigger was born 8 July 1997. He is 14-1/2", tri-factored, and non-white-factored. He has natural ears, normal eyes, full, correct dentition, and is vWD Clear (VetGen DNA test) and OFA Good.
Jigger finished in September 2000, by going WD from the Bred-by class at the Western Massachusetts SSC specialty show under breeder-judge Melanie Williams.
Jigger was the sixth American champion for his sire, the late Can. CH Bonnyville Fairfax Nighthawk, ROMC. He is one of six champions produced by his dam, BISS CH Malpsh Penny Serenade, ROM, and one of two champions in his litter of three. He is a litter brother to CH Foxglove Ashburton Photo Op (Phoebe). We think Jigger has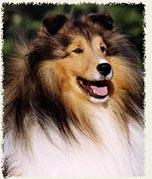 the potential to be a very useful stud dog. We expect him to improve head detail, expression, and front angulation. We also expect him to control size. His first puppies are gorgeous! Click here to see pictures of some Jigger kids.
To see Jigger grow up, click here.
Jigger was co-bred with Deb Jones (Ashburton). He is co-owned with Deb Jones and Susanne Allen (Avalon).