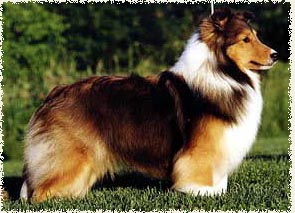 Phoebe, born 8 July 1997, lives with, and is loved by, Colleen Gentilcore (Suntera). We think Phoebe is going to be a producer like her dam, Penny (who is the dam of six American champions). Two kids from Phoebe's first litter (by CH Foxglove Chances Are) are major pointed from the 6-9 puppy class -- Suntera Foxglove Photo Finish (Spencer) and Suntera Foxglove Charmed Life (Charm). Two pups from the repeat of this breeding will be hitting the ring soon.
In an effort to finish before her kids, Phoebe headed back in the ring with her good friend, Carol Arteta at the beginning of September 2001. She finished in just over two months with a five-point major, a four-point major, and a Group One from the classes.
Phoebe is one of two champions from her litter of three. She is a litter sister to CH Foxglove Ashburton Bottoms Up (Jigger). To see Phoebe grow up, click here.
Phoebe was co-bred with Deb Jones (Ashburton). She is co-owned by Suntera, Ashburton, and Foxglove.