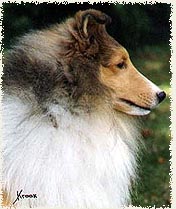 Nick, born 25 December 1995, lives with, and is loved by, Jan Ibaraki (Starmist). He was pointed from the puppy classes (click here), but is pictured below in a win photo taken in October 2000, at a much more mature four and a half years of age. Nick finished in January 2001, making his dam an ROM.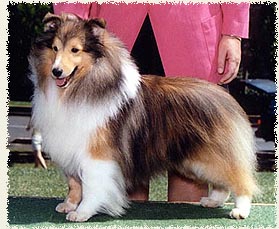 Silly Nick also answers to the name "Nouse," and he especially enjoys being serenaded with his "theme song" (a Kathy Dziegiel creation -- we couldn't possibly take the credit for this one!): "N-I-C-K-E-Y N-O-U-S-E, Nickey Nouse, Nickey Nouse."
Nick is 14-3/8", pure-for-sable, non-white-factored, vWD clear (VetGen), normal eyed, and OFA Excellent.
Nick was co-bred with Deb Jones (Ashburton). He is co-owned by Starmist, Cinnabar, and Foxglove.