Foxglove Ashburton Casablanca ("Patton")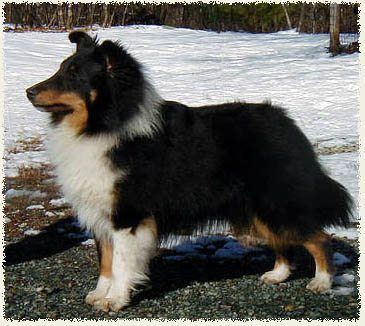 Patton, born 10 May 2001, and pictured at 10 and a half months of age, is a bi-factored tri-color male who is growing up here at Foxglove. Look for him at selected shows this year.
Patton was co-bred by Kim Schive and Carolyn Ing (Foxglove) and Deb Jones (Ashburton) and is owned by Ashburton and Foxglove. Patton is a litter brother to Ashburton Foxglove Picante (Mayan). Pedigree is below.
CH Sunnybrook's Heritage Spirit, ROM

Am./Can. CH Alfenloch Ryan O'Neil, ROM

Can. CH Alfenloch Brooke Shields

Am/Can./Jap. CH Alfenloch Whirlwind, ROM

CH Sunnybrook's Heritage Spirit, ROM

Am./Can. CH Alfenloch Tatum O'Neil

Can. CH Alfenloch Brooke Shields

Am./Can. CH Cub Hill Steel Wheels, ROM

CH Fennecus Blue Collar Man (Piano Man)

CH Cub Hill Bankers Hours

CH Mainstay Apparently

CH Cub Hill Early Mornin Rain

CH Fennecus Blue Collar Man

Cub Hill Monday Mornin Blues (14 pts, both majors)

Severn Moonlight Becomes You
Foxglove Ashburton Casablanca (Patton)
CH Macdega Maserati, ROM

CH Macdega Glenhart Grand Prix, ROM

Glenhart Ring Of Gold

CH Lakehill King O' The Road

CH Sunnybrook's Heritage Spirit, ROM

CH Lakehill Heritage Crystal

Lakehill Sassafras Lass

Am./Can. CH Alfenloch Ryan O'Neil, ROM ("Heritage Spirit")

Am/Can./Jap. CH Alfenloch Whirlwind, ROM

Am./Can. CH Alfenloch Tatum O'Neil ("Heritage Spirit")

CH Foxglove Ashburton Ingenue (dam of 3 CHs)

CH Cameo Farms Justinuff Spirit ("Heritage Spirit")

BISS CH Malpsh Penny Serenade, ROM (dam of 6 CHs)

CH Malpsh The Magic Is Back ("Heritage Spirit")