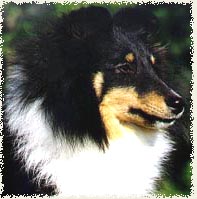 Sizzle, born 18 August 1997, is a wonderful little package -- "little" being the operative word. She's sound and typey... and just a hair over 13" tall. We know that finding judges to appreciate this little bi-factored, tri girl will be a challenge. Still, shown sparingly in 2000, she has managed to garner some nice specialty class wins and a major reserve.
We're thrilled with Sizzle's first litter of two by CH Cub Hill Steel Wheels, ROM (Cruise). We're looking forward to showing these lovely youngsters, Foxglove Ashburton Casablanca ("Patton") and Ashburton Foxglove Picante ("Mayan"). Sizzle has been bred to Macdega Raconteur, and we're hoping for a July (2002) litter.
To see Sizzle grow up, click here.
Sizzle was co-bred with Deb Jones (Ashburton) and Susanne Allen (Avalon). She is co-owned with Deb.