Read about the 2001 walk


See the 2001 pictures (I'm redoing these; coming soon)

I just can't stop!...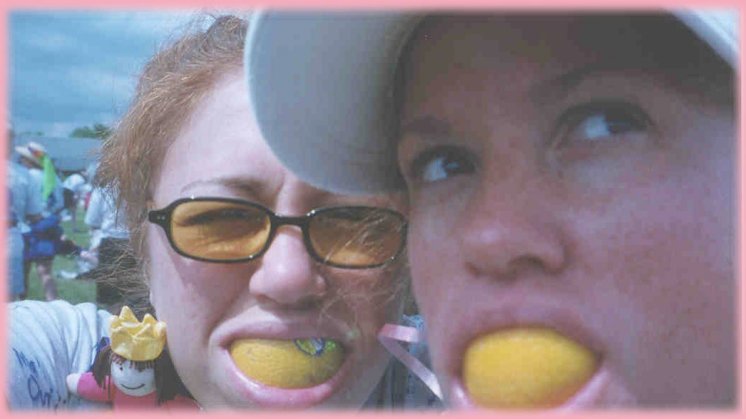 Natty and Julia stock up on Vitamin C!

3-PEAT in 2002!!! Yup, I'm doing it again! I registered on January 16, 2002, after much deliberation. Time constraints, foot problems, and the impact of 9-11 all contributed to my reluctance to commit to a third year. I put off making the decision until after the holidays, hoping for some sort of epiphany that would make the right choice crystal clear. Well, you can't anticipate an epiphany; it just happens. The more you rely on one to decide your future, the more elusive it is. Finally, I got tired of thinking about it, and decided to at least register before it was too late. I'd still have a month or so until I'd have to send out my pledge letters, plenty of time for an epiphany.
So I pulled up Avon's online registration form for the 2002 Chicago walk.
"Due to the overwhelming response, the Chicago Avon Breast Cancer 3-Day has reached capacity for…
… general crew member registration.
PHEW! I knew by my response—first panic, regret, disappointment that walker registration was closed, then extreme relief that it wasn't—that I'd made the right decision. So I guess that was my epiphany.
I have to say, tho, that one of my biggest motivations to signing up again has been all the great e-mails I've received from other walkers—most of them first-timers. Hearing from all these brave and determined women has not only inspired me to walk again but has just plain inspired me. So, thank you everyone who has written to me and motivated me to go for a 3-Peat.
Plus, I just really covet that "Number 3" pin you get for participating in 3 events. (kidding!)
OK, seriously, I'm not kidding. I really want that pin. But even more than that, I want to once again take part in an experience that allows me to help others in a significant way, while getting so much back in return. And tho I still have concerns over training, raising money, and all the other "hard stuff" that goes hand-in-hand with the rewards of this event, I know I would miss every single step (excuse the pun) of the journey.
So, life doesn't always hand us an epiphany. Sometimes the decisions are just plain hard, and we may never know until afterward whether we've made the right choice. Having finally made my decision, I can't wait to find out what lies ahead. I hope you'll join me.

Read about the 2002 walk


See the 2002 pictures (I'm redoing these; coming soon)


See pictures of the handmade pink ribbon items I've sold. Proceeds go entirely toward the 3-Day!

2002 Walk | 2001 Walk | 2000 Walk
I love my donors | I love 3-Day Walkers
Information | E-mail me | 3-Day Home

This site is owned and maintained by Pro Edit.

WebCounter says you are visitor number



This site was last updated on 2-11-07