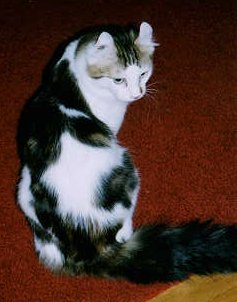 Observantly Sitting


Hunters' Glen Ptarmigan:
1.5 year old male, a longhaired American Curl.
Named after the artic bird by his previous humans.
Born November 1997.
Nicknames: Ptarmi. PT. Thing Three. Curlique.
Entirely an indoor cat. Absolutely loves to be groomed.
Evidently wants to learn the hard way about range tops.
Wants to make friends with the pre-existing cats.
---
Home Page | Who the heck is Diann page | The Kitty Foyer
Dolly's Cloning Emporium