Caution:
Entering a blatantly self-aggrandizing, ego-centric zone.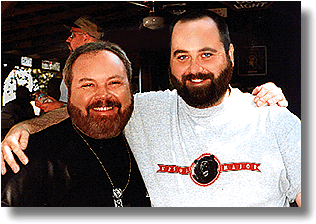 Okay, this is us. This shot was taken in Orlando at Bear Bust '96. Mike is the guy on the left, and Paul is on the right. And, yes, we are partners in more than just Ursine Productions. We first met in Indianapolis in 1991 through Bill Smithson, a mutual friend. To see a shot of us back when we met, a few pounds ago, click here. The actual circumstances of that first meeting make an interesting, if long, story. Ask us about it sometime and we'll tell you.
We began co-habitation a few months later, and we've been together ever since. We would probably be married by now if such a thing was legal, but since it's not, we're just content with our own little piece of illegitimate urban domestic bliss.
Regarding Ursine Productions, our roles are as follows: Mike is in charge of the business aspects, such as handling the books and paying the taxes. Paul is the creative side of the team, so he designs the artwork and oversees the promotional aspects. We collaborate on many areas, including marketing. All this may sound like we're a big company, but we're far from it. The reasons we began the business back in 1992 are pretty modest. Paul had been doing freelance design work and needed to go "legit." And we both had begun collecting bear-related t-shirts, but were unable to find certain designs that we wanted - so we made our own. At the time we ran our first ad in Bear Magazine, we were the only independent vendors making such items available.
We moved from Detroit to Chicago in 1995 so that Paul could further his design career and to be near some people we had become good friends with over the previous coupla' years. We love it here. Chicago is a vibrant city, alive with art, culture and music, and home to a wonderful gay community. It's also fast becoming the midwest bear mecca. (Woof!)
To find out more about us, (someone actually want's to know more?) check out our individual pages:

Mike's Page
Paul's Page