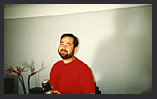 Background
Professional:
The bulk of my professional experience is in graphic design, journalism and photography. I'm currently working as an Art Director for a financial services marketing firm.
Personal:
I'm an Aries and I love to travel. Wait, this already sounds like a bad episode of "The Dating Game."

I grew up outside of Detroit, Michigan, attended college in Mount Pleasant, Michigan, and have lived since 1995 in Chicago, Illinois. I like living in the city very much.

I'm really into music, just about all genré's, both listening and occasionally hacking around with my keyboards -- although I'm by no means a musician. I mostly like to play around remixing things and making compilation cds.

I spend way too much time on my computer, as I suspect you do too.

I love to eat (duh) and especially like to try new things. I like to cook although I don't get the chance very often. I love to eat out and Chicago is a great place for that.

I like the theater, ("The theater, the theater– what ever has happened to the theater?") and try to see as many shows as possible. My friend Gary works for a theatrical production company, and that certainly comes in handy. He's currently consumed by the restoration of the Cadillac Palace theatre and the opening of Elton John and Tim Rice's "AIDA." (Ask him to tell you his stories about working with Disney some day.)

I love roller coasters and amusement parks.

I'm into the bear thing. My NBCS code goes something like:
B4/5 f+ w g s+ r(+/-). I consider myself Fixin's but I aspire to be Pickin's. (For an explanation, please see a BLM post I co-wrote, New Bear Jargon.) I wear my keys on the left, if you know what I mean. I'm by no means an A-Bear.

Anything else you would like to know, please ask.