If You Suffer From:
| | | | |
| --- | --- | --- | --- |
| Headaches | Joint Stiffness/Pain | Sports Injuries | Numbness |
| Sciatica | Carpal Tunnel | Whiplash | Digestive Problems |
| Jaw Pain | Scoliosis | Back Pain | Muscle Spasm |

Often people see a chiropractor as their last resort, when conventional medical treatments have failed them. Although I am typically consulted for backaches, many patients are pleasantly surprised that their other health problems like digestive disorders, TMJ, female problems and breathing difficulties had also improved since starting treatment.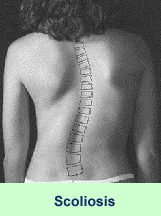 These are among many chronic conditions that my patients thought they just had to learn to live. By the time they come to me they may have already made attempts to help their problems with medications. Basically, any condition that originates from a subluxation or pinched nerve may benefit with the help of a good chiropractor. Remember, the spinal nerves are best protected when the spine is in perfect alignment. Pinched nerves have many symptoms: headaches, neck pain, sciatica (radiating leg pain), arthritis, joint stiffness, arm/leg pain, nausea, dizziness and numbness.
If I find that a patient's health condition is not being caused by a pinched nerve, then I refer them to the appropriate health care professional.
However, if a health problem is caused by a structural imbalance, then any other treatment other than chiropractic will only provide temporary relief if any, while possibly causing uncomfortable or serious side effects. Chiropractors know that the cause must be treated, NOT just the symptoms for a most effective solution.