Remembering the Rutland - Remembering the Milk Trains
---
BARRE & CHELSEA RR
By Dwight Smith
---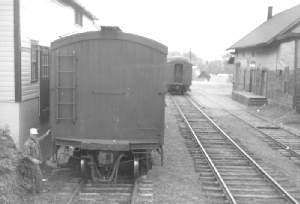 Pickup at Plainfield
Author Dwight Smith has been a fan of the milk trains for quite some time. We offer this photograph, taken by Dwight, as proof. "I took the photo from the cab of [Barre & Chelsea] 70 tonner #14 while Sunday-only train #90 picks up a carload of milk from the H.P. Hood plant in Plainfield, VT. B&C combine #14 waits on the mainline. I was a "passenger" riding the fireman's seat from Montpelier to Woodsville. I believe the car was a 50' wooden GPEX tank car. The date was Sunday, October 11, 1953. I don't recall if we picked up a White Brothers car at South Ryegate, too. We had left Montpelier with only the 14 and the 14. The B&C wasn't very imaginative in choosing numbers for their power and cars."
---
B&C Milk
by Dwight Smith

The Barre & Chelsea Railroad ran from Montpelier, VT to Woodsville, NH. It was abandoned 1956.

In the early 1950s this road carried two daily milk tank cars. One was from H.P. Hood in Plainfield, VT and went to Boston. The other was from White Brothers in South Ryegate, VT and was destined for Atlantic, MA (Quincy), presumably via B&M-Union Freight-NYNH&H. The B&C even operated a Sunday round trip in order to handle the milk. Most of my photos of the Barre & Chelsea in the 1950s show wooden 50' GPEX tank cars from both Plainfield and South Ryegate. Photos of the predecessor Montpelier & Wells River RR in the 1940s show 40' steel GPEX tank cars from Plainfield.

An excellent photo of a White Brothers car appears on page 88 of Railroad Model Craftsman for March, 1986. In earlier years the White Brothers cars carried a large logo showing a cute baby, but I have never seen a clear photo of the car decorated this way. I lettered my HO model of a White Bros. car according to the RMC photo by cobbling a New England Rail Service GPEX decal set.
---
Barre & Chelsea Combine No. 14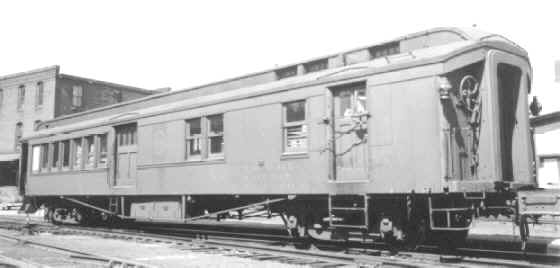 B&C RPO-Baggage-Coach No.14 was a mainstay on mixed trains #3 and #4 for many years. This photograph of No.14 was taken in April of 1947 at Montpelier, Vermont by O.H. Borsum. St.J&LC combine No.107 occasionally substituted for this car. No. 14, which was purchased from the Rutland and was originally their No. 271, was replaced in the mid-1950s by an ex-Rutland steel RPO-coach.
---Collection of James R. Dufour---
---
Barre & Chelsea Mixed Train No. 4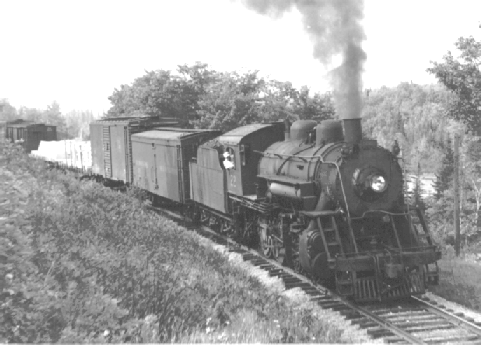 Legendary photographer Philip R. Hastings captured this classic image of Barre & Chelsea 2-8-0 No. 22 blasting uphill to Lanesboro, Vermont with Mixed Train #4 in September of 1947. On the head pin is a 40 foot GARE wood milk car lettered for H.P. Hood & Sons and no doubt waybilled for the Hood plant in Charlestown, Massachusetts. Farther back in the consist are two flat cars of granite.
---Collection of James R. Dufour---
---
To learn more about the Barre & Chelsea and its predecessor, the Montpelier & Wells River, seek out a copy of the essential reference Vermont's Granite Railroads by Robert C. Jones, Whitney J. Maxfield and William G. Gove. As well as being a history of the line the book features the work of many notable photographers, among them Philip R. Hastings, Al Hale, Ray Tobey, and our own Dwight Smith. Fans of the milk trains will not be disappointed as the book has many photos of mixed trains, milk cars, creameries, stations, etc. A wonderful glimpse of life as it was along a Vermont shortline in the years when the milk went by rail.
-Jim Dufour
---