Remembering the Rutland - Remembering the Milk Trains
---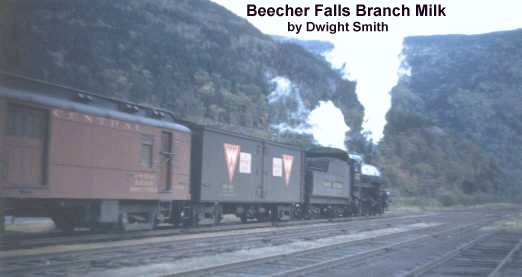 Maine Central Train #163 at Crawford Notch, NH
---
In the early 1950s, there were at least two creameries in Colebrook, NH (on the Beecher Falls branch) that shipped by rail. The Beecher Falls mixed brought the cars to Quebec Junction, where they were picked up by #163, the Maine Central St. Johnsbury (Vermont) to Portland (Maine) passenger train. I assume the cars moved from Portland to Boston via B&M. There was an H.P.Hood bottling plant in Portland, which could have been a destination for a car.
On Sundays the milk moved via a Maine Central extra from Colebrook to Lancaster, where the car or cars were picked up by B&M's Sunday-only Lancaster-Woodsville passenger train #6056. At Woodsville the train connected to B&M #26, a Woodsville - Concord - Boston train. It is interesting to note that the B&M had no passenger service to Lancaster on week days!
-Dwight Smith
---
Spotting Whiting's Milk Cars
To help illustrate Dwight's story we have a photograph of Maine Central train #163 awaiting a highball at Crawford Notch station in the early 1940s. On the head pin is a car of Whiting's milk probably destined for Boston via Portland, as Dwight explained above. The wood car is lettered SWJX 8 or 9 and leads one to suspect that it was recently in the employ of the Supplee-Wills-Jones Milk Company in the Philadelphia area. See page 24 of the Septemeber/October issue of Model Railroading for a photo of SWJX 7.
It is fun to spot the variations in the style and placement of the Whiting's placards. If you own a copy of the Herron video "Mountain Division" you can spot some others. This car has a "triangle" and a "rectangle" logo on each side of the door. The "rectangle" logo sports red letters on a white background, rather than the alternate white letters on a green background.
Precision Scale imported an HO scale factory-painted version of a very similar car (lettered for Whiting's Milk ownership: WMKX 11) as well as an undecorated model. Concord Junction once offered the decals.
-Jim Dufour
---
[An excellent source of additional information on the Maine Central operations - including the movement of milk - through Crawford Notch is "Maine Central Railroad Mountain Division" published by the 470 Railroad Club some years ago. Although difficult to find it is worth the effort. -jrd]
---