Remembering the Rutland - Modeling the Milk Trains
---
National Car Co. Container Flat Car
---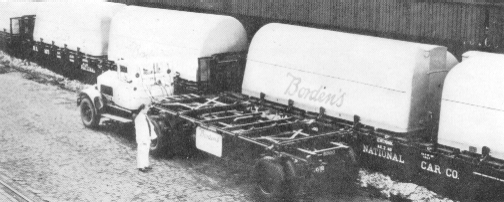 Image: Circa 1940. Collection of Jim Dufour
The idea of carrying milk in containerized tanks that could be easily transferred between a flat car and a truck was the brainchild Benjamin Fitch, president of Motor Terminals, Inc. of Cleveland, Ohio. It was a revolutionary idea that led to the intermodal concept of transportation. National Car Company, a subsidiary of Fruit Growers Express Company, joined in partnership with Motor Terminals in 1940.
Borden's was a faithful customer of National Car for many years. Others included Hohneker's, Renkins, Dairymen's League, Sealtest and Sheffield Farms.
Those seeking more information are directed to Robert Mohowski's New York Ontario and Western Railway - Milk Cans, Mixed Trains and Motor Cars. A whole chapter is dedicated to containerized milk transportation.
---
National Car Co. flat with Borden's tanks as modeled by Don Spiro.

Don's model is an Overland brass import. Funero & Camerlengo sell an HO scale resin kit of this car (and three variants). According to Don, "Man, was this ever an elusive car to find. It took me two years but was well worth the search. It is a stunning model! I painted it with Polly Scale paints and used F&C decals made for their resin version of this car." The lettering on these cars varied from car to car.
ps - as recently as the middle of November, 1999 The Caboose in Wolcott, CT was selling the brass OMI version of this car. They can be reached at 203-879-9797
---