Remembering the Rutland - Remembering the Milk Trains
---
Mechanical Units Cool Milk With Gas
By Hollis F. Moore, Concord Car Shops
---
Note: the following article and illustrations are reprinted from the June 1951 Boston & Maine Railroad (Employees) Magazine in the collection of A. E. Moquin. The photo immediately below of B&M 1718 is a scanned image of the same photo that appears in the article.
---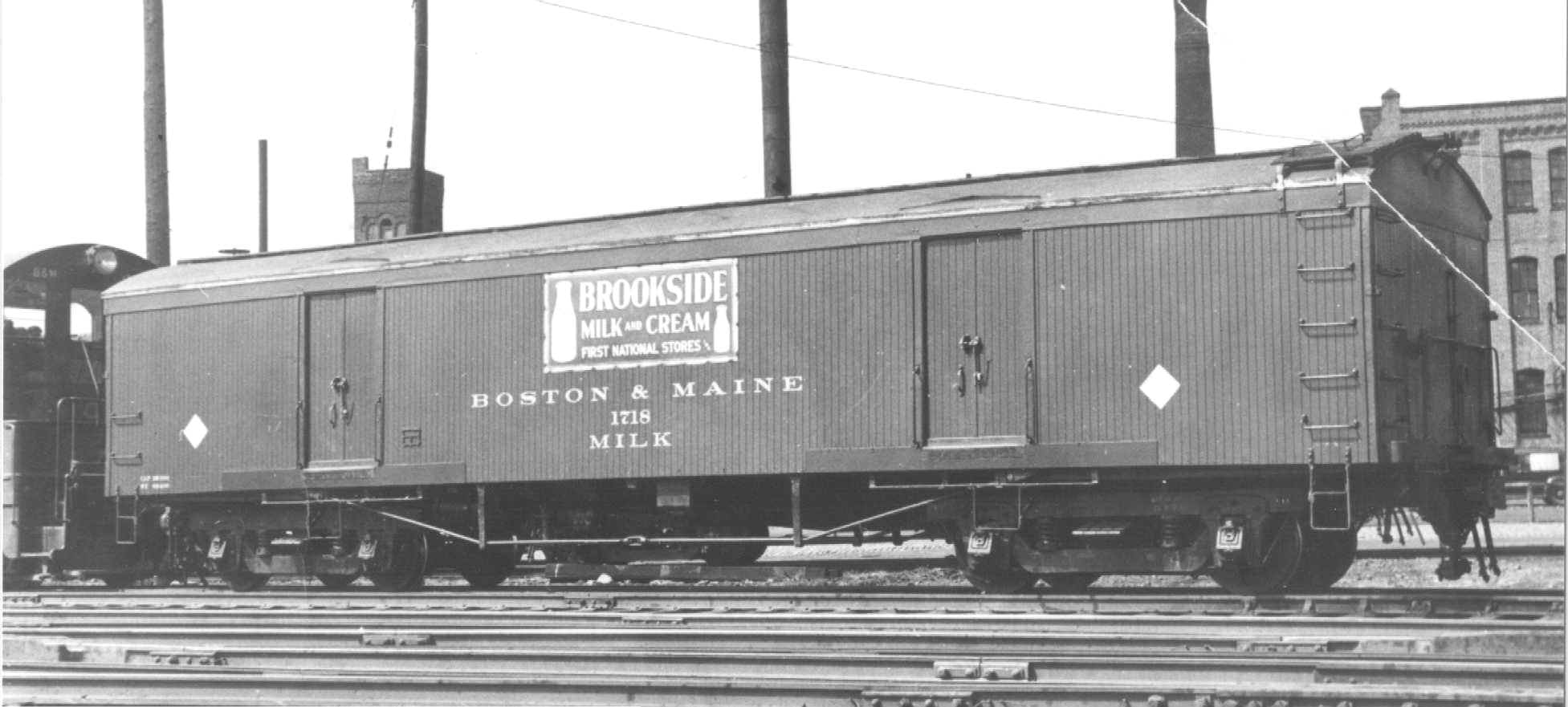 Image courtesy of Bob's Photos
Above: exterior view of first of eleven new-type milk cars, the cooling unit being on opposite side of car.
---
Eleven mechanically cooled milk cars are being placed in service on our railroad by the Bellows Falls Co-operative Creamery. The new cars, a type novel to our system, represent a reconstruction of milk cars formerly used by the Bellows Falls company in which ice was used for cooling purposes. The new type is designed specifically to preserve milk shipped in bottles directly from Bellows Falls, Vermont, to the First National Stores system in Greater Boston.
The cars were prepared for installation of the cooling units at our Concord Car Shops. A wood-enclosed compartment was built at one end of each car to house the compressor and cooling unit, an overhead metal duct was attached to the ceiling lengthwise through the middle of the car, and hangers were slung beneath the cars to carry a gasoline storage tank and storage batteries.
The cooling units, known as Thermo-King freon gas units, were installed in the cars under the supervision of the Walsh Body & Trailer Corp. of Somerville, Mass. Similar to units installed in many overland highway trucks the units consist of a gasoline motor which operates a compressor with freon gas, a blower forcing cool air through the duct above the milk at a rate of 2,600 cubic feet a minute, and drawing air back beneath the load. The units operate entirely automatically at whatever temperature is set on the controls, and defrost themselves automatically. A sliding door on the side of the car covers the compartment housing the cooling unit. This permits ready access to the unit when inspecting or servicing. Also, each unit is constructed on a sliding shelf so that it can be moved outside the wall of the car to further expedite servicing. The Bellows Falls Co-operative Creamery, which purchased the units and had them installed, has responsibility of maintaining and servicing them.
---
Views of Mechanically Cooled Milk Cars
(from the same article)
---