Remembering the Rutland - Modeling the Milk Trains
---
Highball West Concord!...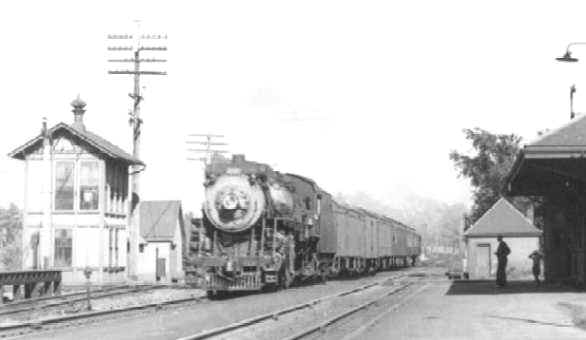 ...with empty milk cars for the Rutland.
The quiet of a lazy summer afternoon is shattered by a P-2 Pacific leading a westbound Fitchburg Division passenger train as it hammers the New Haven Railroad diamond at West Concord, Massachusetts. The station agent has company today on the platform as he looks 'em over: a local boy who is undoubtedly glad to be out of school and therefore able to bear witness to the sight (if not the sound - he is covering his ears!) of the passing spectacle.
At South Ashburham this train, probably B&M train #5507, will enter the Chesire Branch for the remaining fifty-four miles to Bellows Falls, Vermont. On the head pin are three milk cars: a B&M wood four-door car, a wood car, perhaps an ex-freight reefer, of unknown ownership and what may be a Rutland wood car judging by the horizontal molding.
West Concord today is a popular stop on the MBTA's Fitchburg Line. The signal tower and the freight house behind it are long gone as is the New Haven crossing. The station itself is a coffee shop.
---
---Photo by Norton D. Clark---
---Collection of James R. Dufour---
---