Remembering the Rutland - Remembering the Milk Trains
---
Borden's "Butter Dish" Car
---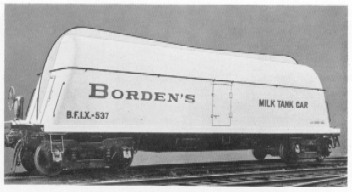 Borden's owned no less than forty of these unique cars numbered in the 500s. They consisted of two 3,000 gallon glass-lined tanks yielding a total capacity of 6,000 gallons. The photo above is circa 1940 and probably depicts this type of car in its first lettering scheme. There is some controversy among modelers and historians over whether these were white, aluminum or both this early in their careers. They have been imported in HO scale by three importers: Railworks, Overland and Precision Scale. Railworks and PSC had various versions with and without the fins, which were removed in stages during the car's careers. PSC did a number of factory-lettered variations in different colors.
---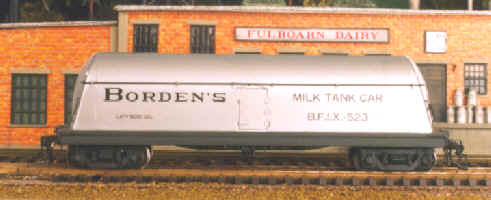 ---
Don Spiro's model of a Borden's "Butter Dish" car was acquired "in a trade...and it came painted as you see it. Obviously the lettering has been applied incorrectly. I plan to repaint it in the earlier red scheme."
Be sure to show us the results, Don!
---