Remembering the Rutland
Rutland Q&A
-page 3-
---
---
Q. #21 (11/05/99) I'm a member of the RRHS. I have a question concerning the new Spectrum LI 4-8-2 Mountain. How close is this model to the Rutland L1 4-8-2 prototype numbers 90-93. I model Vermont and New Hampshire and the Rutland is one of the roads that I model.
Thanks in advance
-Tom Costello
---
A. (11/10/99) Unfortunately even squinting in dim light won't make a Bachmann Mountain resemble a Rutland Mountain. Question is how fussy are you and do you have an operating layout? If you answer "not much" to the first question and "yes" to the second then I recommend you get ahold of an undecorated Mountain and a set of Champ Rutland steam decals. Letter it up but number it above 94..[you can use your own imagination as to why The Rutland had this relatively unknown class of Mountains].....then trim out the edges of the running board in silver, whitewall the driver rims, maybe do a little detail work like mounting the pumps on the pilot deck and anything else you
see that is "Rutland" practice that you'd like to add. Then place it on your layout and enjoy the incredible operating characteristics of this fine locomotive. Granted it's not a true Rutland "90" by any stretch of the imagination, but there is something to be said for seeing affordable HO scale steam operate as well as any of the three recent releases from Bachmann and Athearn do. Even if it "ain't prototype". These locomotives are incredible!! You can buy all three and still have money left over in
comparison to buying one PFM Mountain........if you were lucky enough to find one. I'm sure this will garner a few responses but if you have any shred of desire to own and operate one of these locomotives by all means get one. It will not dissappoint.

-Don Spiro
---
Care to comment? Click here to email your response.
---
---
Q. #22 (11/06/99) What was the ruling grade west (north) from Rouses Point to Malone, NY?
-Joel Norman
---
A. (12/12/99) According to the 1934 book, the ruling grade appears to have been1.09 percent at two short locations between Ellenburg and Clinton Mills.
-Dick Dermody

---
---
Q. #23 (11/10/99) I am looking for information regarding the disposition of the Western Vermont Rail Road Co. I have a stock certificate for that RR issued to (I believe) my great great great grandfather in 1851. His name was Anson Vail (of Danby) and I believe that he was an employee of the RR. Based on a timeline I found of Rutland RR history, it seems that the Western Vermont RR was part of, or absorbed by the Rutland. Are the railroad companies that operate in that area of Vermont today associated with the WVRR/Rutland RR? Any info you have would be appreciated.
Thank you,
-Larry Vail
---
A. (11/12/99) The Western Vermont Railroad Company was incorporated on Nov. 5, 1845 under the Laws of Vermont. It was leased to Myron Clark on Nov. 3, 1853 and passed to control of the mortgage trustees on Jan. 16, 1857. On Aug. 1, 1865 it was reorganized as the Bennington and Rutland Railroad Company. The Bennington and Rutland eventually became part of the Rutland, first through lease on Mar. 1, 1900 and finally through consolidation on Jun. 30, 1901.
-Glenn Annis
---
Care to comment? Click here to email your response.
---
---
Q. #24 (11/24/99) How close is the Spectrum 2-8-0 Consolidation to any that the Rutland used? Did the Rutland use them on the Bellows Falls Sub or the O&LC in the 1950s?
-Rich Parkola
---
A. (11/28/99) Rich Parkola asks about the Bachmann 2-8-0 and the RUTLAND. Unfortunately, the Bachmann engine is nothing like the Rutland engines except for the size and number of wheels. The Bachmann engine is based on a very large 1920's consol, while the Rutland engines were medium sized 1900's engines, smaller than even what the NYC was building at the same time. If you want to know what the Rutland engines would have looked like with Walschaerts valve gear, go to Steamtown [or North Conway? -jrd] and take a look at their Maine Central 2-8-0. Other than the valve gear and the cylinders and cab, the MEC 2-8-0's were the same engine as the RUTLAND 2-8-0's.

Yours truly,
-Chris Martin
---
---
Q. #25 (11/24/99) Question - Bellows Falls Sub Freights: What kind of freight trains operated on the Bellows Falls Sub in the 1950-1961 time period? Was there a local that did the work between Rutland and Bellows Falls on a daily basis? Did the Bellows Falls-Norwood freights do any local work? What kind of steam/diesel power was used on these trains?
(I realize that these questions may be answered by Nimke's Volume 3 on the Bellows Falls Sub but I have been unable to locate a copy to purchase or read - any suggestions?)
-Rich Parkola
---
A. (11/29/99) I suggest reading Giro R. Patalano's book, BEHIND THE IRON HORSE, The People Who Made the Trains Run in the Bellows Falls, Vermont, Area (1941-1980) published in 1997 by the Vermont Historical Society. Call the Vermont Historical Society Bookshop, 109 State Street, Montpelier, VT 05602, 802-828-2291. The price is $16.95.

I found it to be a very entertaining book and a wonderful fount of railroading information.

-Robert W. Jones
---
Care to comment? Click here to email your response.
---
---
Q. #26 (11/28/99) In looking through the Walthers 2000 catalogue I see that M. F. Kotowski has a print (#413-199010) called "Rutlands". Is anyone familiar with that print? Does it have anything to do with the Rutland RR?
-Bill Badger
---
A. (12/01/99) Jim, I pulled out the art print I mentioned the other day. It is a print of a watercolor painting. The painting is entitled "Rutland's Green Hornets." My print is numbered, signed, and dated by the artist (M.F. Kotowski). It is a painting of steam engine #93 in the "Green Hornet" paint scheme. The engine is pulling a wooden combine and what looks like a wooden coach. The rest of the train is hidden due to the curvature of the track. The Green Mountains are depicted in fall colors in the background, and the engine is passing three men standing in front of what looks like a section house in the foreground. Naturally the engineer is waving to the men.

Included with the print is a certificate, also signed dated and numbered by the artist, along with a brief description of the Rutland's Mountain type engine and the trains they pulled. It also mentions that the scene is supposed to depict a "down" train toward Bellows Falls, Vermont.
I ordered my print from Walthers several years ago.

-Mark Rossiter
---
---
Q. #27 (11/29/99) I am finally getting around to assembling the Walthers' Jordan spreader. The model is very close to the Rutland X180 - I guess this is so because they bought a "stock" model. If I go nuts I'll add the hydraulic lines.
What colors did Rutland paint it? I only have b&w photos. The cab and railings look to be yellow and the body looks a bit light to be black - my guess is that it is green - the railroad was proud of their new equipment in their 1954 annual report but the photos are also b&w. The actuation cylinders look darker - black?
Any suggestions on a source for lettering?
Best Regards,
-Ray Muntz
---
A. (11/29/99) In response to question #25, I have some half-baked information on the paint scheme on the Jordan Spreaders (until more definitive information can be obtained). On page 126 of Sweetland and Horsley's NORTHERN NEW ENGLAND COLOR GUIDE TO FREIGHT AND PASSENGER EQUIPMENT there is a color picture of spreader # X467 which is black on black but the cabin appears to be a very weathered boxcar or cherry red. Glenn Annis and Bill Badger's article in the Winter 1996 Newsliner notes that the pile driver, cranes, work tenders and flat cars were black, so I expect that the spreaders were also black; however they note that the snowplows were cherry red. Could the cabin on the spreader have been that same color? Volume I of Nimke's book has a B&W picture of X467 (p. 192) in much better shape which definitely suggests a two-tone paint scheme (red for the cabin and black for the rest?). More to the point, X180 is pictured in B&W on page 189. The cab and plow appear to be light in color and as the print on the cab is darker and you can see the "new" Green Mountain Gateway herald I would speculate that the cab and plow are yellow and the printing and herald are green.
-Gary S. Raizes
---
A. (11/30/99) My thoughts on the Jordan Spreader X180 by the B&W photos I've seen is that it was in fact yellow and green. Therefore, that's what I painted mine . . . I'll try to get my friend to make an e-photo to send to you. I haven't done the hydraulic lines yet. I say "yet" because I mean to do that. I also haven't found anything suitable for the two small lights on either side of the headlight. Years ago I purchased some 11 x 17 drawings/prints of Jordan spreader parts and accessories done by Bill Roy of McKensie Iron & Steel Co. . . . I don't know if he still has them available or not. He usually advertises in the Shortline Gazette. Let me know if you can't locate him . . . I think I have a recent issue.

-Jim Otto
---
A. (11/30/99) I asked this same question in August of '97. Steve Mumley of the Green Mountain
Railroad wrote to me. X180 [was] painted dark green with a yellow cab. Lettering was dark green. As of 8/4/97 this piece of equipment was in Burlington, VT painted grey primer color. Spreader X467 was all black with white lettering. I'm not sure but I think X180 has air cylinders not hydraulic cylinders.

-Bob Cochran
GMRC405@aol.com
---
A. (12/12/99) This photo of X180 [below] may help clear the air on paint. For those [who] want a copy, it's from Bob's Photos, RUT 003. The cab, railings, brakewheel and stirrups are yellow. I'm tempted to say the rest is black, but Steve Mumley says green. If so, it's a very dark green, a la Pennsy "Brunswick Green". Lettering would be a bit of a challenge, but it appears the herald from the Microscale N-scale set for the Rutland diesels is very close to the correct size.

The Walthers kits is very close to the model the Rutland bought, which is technically a Model 2-200, a Spreader-Ditcher-Snowplow. It is powered by air contained in the large horizontal reservoir fed by the pushing engine's compressor.

The major omission in the Walthers kit is the lack of the "carrier wing brace arrangement", the tubelike assembly just below the "diagonal brace assembly", part number 15 in the Walthers kit. Adding this part and two roof-mounted spotlights would just about do it for the X180.

Bill Roy's 4-page set of drawings are very interesting and informative. If you have any interest in the Jordan Spreader, they are well worth having. The last address I had (from some years ago) was Bill Roy, McKenzie Iron & Steel Co., PO Box 3695, Eugene, OR, 97403.
-Dick Dermody
---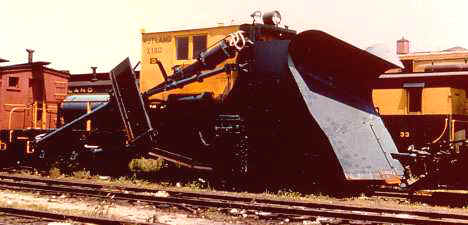 ---Courtesy of Bob's Photos---
---
Care to comment? Click here to email your response.
---
---
Q. #28 (12/02/99) I have an old ink drawing of a finely detailed steam engine and tender. The engine and tender have the name "JOHN S. FARLOW" lettered on them. The engine also shows a casting inscribed "Malone, N.Y. 1868 O&LCRRCO." The title on the bottom of drawing says, "BUILT BY THE O&L.C.R.R.CO." The artists name is George S. Batchelder, dated Nov. 20, 1875. This drawing has been handed down to me from past generations, yet I don't know much about it other than my great-grandmother's maiden name was Batchelder. George S. Batchelder resided in Ellenburg Depot, N.Y. It may also be helpful to know that the engine has 4 axles, as does the tender. Any info regarding this would be appreciated.
-Sam Roberts
---
Care to comment? Click here to email your response.
---
---
Q. #29 (12/14/99) Do you know which of the trains through Bellows Falls carried mail, either in mail storage or in a working RPO?
-Jacob Klerman
---
A. (01/24/00) James VanBokkelen, a B&M modeler, maintains a nice website with information on a range of New England rail topics:

http://www.apocalypse.org/~jbvb/rr/index.html

One of his site pages deals with RPO routes so should be of particular interest to you:

http://www.apocalypse.org/~jbvb/rr/ne_mail.html

I will leave it to those more knowledgeable than I to assign particular Rutland train numbers to these routes.

-John S. Horvath
---
Q. #29 (02/19/00) The information in these tables is lifted from B&M and Rutland public and employee timetables and from the "Alburg [sic] & Boston R.P.O." line schedule for mail clerks contained in the "Schedule of Mail Routes No. 297 - October 28, 1938." The tables don't tell the whole story of mail service through Bellow Falls as at least one additional scheduled trip in each direction between Rutland and Bellows Falls does not correspond to scheduled trains. I am endeavoring to find out how these moves were made (by truck?) and solicit information from those who may be able to offer information. As well, at least one run in each direction between Boston and Bellows Falls terminated at Bellows Falls. These tables are extremely preliminary and subject to correction (I have yet to master the subleties of reading these RPO line schedules) but I thought that posting them might spur on others to further research.
-Jim Dufour
---
Boston-to-Rutland RPOs - Late 1938 to ?
| | | | | | | |
| --- | --- | --- | --- | --- | --- | --- |
| B&M Train No. | Rutland Train No. | Train Name | Arr. B.F. | Dep. B.F. | RPO Comp. Size | Comments |
| 5501 | - | - | 7:56am | 8:15am (truck?) | 30' | Boston "Paper Train?" |
| 5503 | 165 | Green Mtn. Flyer | 12:10pm | 12:20pm | 15' | Became Rut #65 at Rutland |
| 5507 | 159 | - | 5:25pm | 5:50pm | 15' | Passenger local |
| 5511 | 143 | Mount Royal | 10:20pm | 10:55pm | 30' | Became Rut #51 at Rutland |
Rutland-to-Boston RPOs - Late 1938 to ?
| | | | | | | |
| --- | --- | --- | --- | --- | --- | --- |
| Rutland Train No. | B&M Train No. | Train Name | Arr. B.F. | Dep. B.F. | RPO Comp. Size | Comments |
| 146 | 5502 | Mount Royal | 3:25am | 4:25am | 30' | Arrived Rutland as train No. 52 |
| 164 | 5510 | Green Mtn. Flyer | 3:50pm | 4:00pm | 15' | Arrived Rutland as train No. 64 |
| - | 5508 | - | 1:10pm (truck?) | 1:50pm | 15' | Scheduled B&M train B.F. to Boston |
| - | 5504 | - | - | 7:40am | 15' | Scheduled B&M train B.F. to Boston |
---
Care to comment? Click here to email your response. Please refer to Q #29.

---
---
Q. #30 (12/25/99) Did the Rutland ever run any dining car service? If so, was it their own? Did they have their own dining car china pattern? What train(s) did the service run on?
-Thomas A. Matzell
---
A. (12/29/99) In reference to Rutland's dining service - Rutland's 900 (diner lounge parlor) was purchased in 1913 and retired in 1943. I believe that Rutland had its own china and silver. If anyone has any, send me photos and I'll do an article for the Newsliner.
Schedules list equipment for the scheduled trains.
---
1903 lists:
Green Mountain Flyer:
a Pullman Buffet Parlor from Boston to Burlington
Express (overnight):
a Pullman Buffet Sleeper from NYC to Montreal
a Dining car from NYC to Poughkeepsie
---
1915:
Green Mountain Flyer:
Dining car NYC to Albany
Dining car Boston to Rutland, Alburgh (900?)
NY - Boston - Montreal Express
Buffet (Broiler) sleeper - NYC to Ottawa
---
1919 (USRA):

Green Mountain Flyer:
Dining car NYC to Albany
Dining car Boston to Rutland, Alburgh (900?)
Cafe car Rouses Point to Coteau Jct., Quebec

Express:


Dining car NYC to Albany
Dining car Boston to Rutland, Alburgh
---
1939:

Green Mountain Flyer:
Broiler buffet NYC to Montreal
Broiler buffet parlor Rutland to Montreal

Mount Royal:


Lounge buffet NYC to Montreal
Lounge buffet Rutland to Montreal
Sample fares: NYC to Montreal $10.11 and Boston to Montreal: $8.58
---
1942:

Green Mountain Flyer:
dining car NYC to Albany

Mount Royal:


none listed

I hope I got these right.

Best Regards,

-Ray Muntz
---
A. (12/29/99) The Rutland did indeed have its own china and flatware, although it is extremely rare to find examples in the marketplace or even in collections. Doug McIntyre's The Official Guide to Railroad Dining Car China has a picture of a white Rutland dinner plate in what is called the Green Mountain pattern. The plate is white with green and brown stripes around the edge and features a small green, circular herald with "RUTLAND RAILROAD in the center and "NEW YORK BOSTON MONTREAL LINE" around the circumference. In terms of rarity it is rated a 5 out of 6 and the author comments "I want it," so you know it is a very rare and desirable piece.
Dominy and Morgenfruh's Silver at your Service only lists one flatware pattern for the Rutland, named Cromwell. It is called one of the most popular patterns with the railroads. Years ago I was offered a Rutland dinner fork for $35, but that was too dear to me at the time. I would jump at the opportunity today!
-Jim Dufour
---
Care to comment? Click here to email your response.
---
---
[Back to Rutland Q&A Directory]
---