Remembering the Rutland - Modeling the Rutland
---
Rutland Car Shops
---
RUTLAND CAR SHOPS CLOSED ITS DOORS IN JULY 2001. HOWEVER, MIKE AND RANDY CONTINUE TO WORK ON KITS INTENDED FOR FUTURE RELEASE. AS WELL, MANY OF THE EARLIER RCS KITS ARE STILL AVAILABLE. THE REMAINING STOCK AND ALL FUTURE KITS WILL BE MARKETED AND SOLD BY BETHLEHEM CAR WORKS, WHOSE WEB SITE HAS FULL DETAILS.
YOU CAN CONTACT BETHLEHEM CAR WORKS AT:
263 Parkview Drive

Souderton, PA 18964

Phone: 215-721-3006

Fax: 215-723-2542
---
It is with mixed emotions that we announce the closure of Rutland Car Shops on June 1, 2001. Perhaps "closure" is too strong a word - we intend our closing to be more of an indefinite hiatus or suspension of business. In any case, we will not be taking any more orders for our kits after June 1. All of our structure line will be available until then along with most, but not all, of our rolling stock kits. As previously announced, we have already discontinued production of our Rutland flanger X111 kit (only 15 left at this writing) and others are likely to be in short supply by June.

While we have enjoyed the research end of the kit production and the many acquaintances we've made since we started Rutland Car Shops, the business has signficantly cut into our personal railfanning and model railroading time. Since tearing down our old layout a year and a half ago we have been suffering from layout "withdrawal" so we've decided to shelve the business for now and devote our energies to construction of our new layout. As much as we have enjoyed being able to produce fleets of prototypically accurate Rutland baggage cars, stock cars and reefers, we derive even greater enjoyment from seeing these cars in trains running through fully scenicked Rut-landscapes. So it is back to layout building for us.

Best regards,

Mike Sparks

PS, Just 'cause we're shutting down the business in June doesn't mean that we won't be coming out with any more new stuff. In fact we still have a couple of juicy new car projects in the works (they'll just be offered on a limited run basis). Stay tuned.
---
New Rutland Structure Kits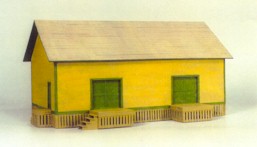 The freight house photo (left) is our HO scale Rutland standard plan freight house based on the structure formerly located at New Haven Jct., VT (item # RCS-FH2, $34.00 ea.). The model was built and painted by Randy Laframboise. Also available is our Middlebury Depot kit (RCS-SS4, $75.00 ea.) which features one-piece castings for the main roof and clerestory roof. Both kits are produced for us by Sylvan Scale Models and are currently in stock.
---
New Rolling Stock Kits
The latest offerings in our line of Rutland RR rolling stock include a second stock car, a steel baggage car, milk reefer and a freight refrigerator. The stock car and baggage car kits are being produced for us by Funaro & Camerlengo and are currently in stock. The milk and freight reefer kits are being produced for us by Sylvan Scale Models. The Rutland milk reefer kits without decals will be available on November 1, 2000. Freight reefer kits without decals are scheduled for release on December 1. Decals for both kits should be available by Christmas 2000.
---
Rutland Stock Cars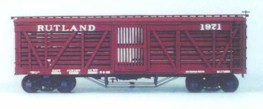 The new stock car kit (shown at left, item number RCS-Rl971) is a reproduction of car #1971, another version of the 1940-1980 series of 36' single-deck, steel underframe stock cars built by Laconia Car Company in 1903. While the majority of the 1940-80 series stock cars had car sides constructed with 8 vertical support posts (as replicated by our earlier kit # RCS-R1947), car #1971 features cars sides with only 6 vertical support posts. Car #1971 actually more closely resembles the 1915-1930 series 36' stock cars rebuilt by Rutland shop forces from the 7500-7534 series 36' boxcars in 1924-27. Two 36' stock cars of the 6-post design, cars #1920 and 1971, were the longest-lived of the stock car fleet surviving in MOW service until 1956. Rutland stock car 1971 is now available without trucks for $27.00 (RCS- Rl971) and with Kadee trucks for $31.50 (RCS-R1971-1).
---
Rutland & NYC Baggage Cars
The new baggage car kits are based on a series of 60'-6" steel baggage cars built for the Rutland and the New York Central by ACF in 1914. The Rutland version (kit # RCS-R129) includes both styles of wood-panel baggage doors used on Rutland baggage cars 128, 129 and 130 as well as accurate thin-film decal lettering covering all paint schemes from 1914 to 1960. The NYC version (kit # RCS- NYC G74) includes both the wood panel doors and the steel panel baggage doors used on the NYC cars and thin-film decal lettering for paint schemes used from 1911 to 1960. Both versions of the baggage car kit retail for $55.00 (including cast resin brake gear and underbody details, Kadee couplers, Bethlehem Car Works diaphragms, Builders in Scale chain, but less trucks).
---
MDT Reefers
Our new reefer kits replicate the series of wood-sheathed, steel-underframe, 40' refrigerator cars built by MDT for the Rutland in 1913 and for the NYC and Michigan Central between 1913 and 1917. The kits feature thin-wall, one-piece body castings and Tichy brake system appliances (trucks and couplers are not included). Custom thin-film decals for these cars are being produced for us by MicroScale. The model in the photo was superdetailed and finished by Mike Sparks. Builders in Scale chain, Detail Associates brass wire and Precision Scale pipe fittings were used to superdetail the underbody.

We are producing two versions of the MDT-built Rutland reefers - the freight refrigerators of the 1875-1899 series ( kit # RCS-R1875 shown left) and the reefers converted into milk cars and renumbered in the series 383-399 (kit # RCS-R383). The primary difference between these two types of refrigerator cars is that the milk car version has small vents over the doors and roof walk platforms in place of the ice hatches (which had been removed when the cars were rebuilt). The third version of the reefer kit (kit # RCS-MDT) replicates the refrigerators originally built for the NYC (series 155000-155999 and 156000-156999), LS&MS (series 145000-145999) and MC (series 16000-16249). For more information on MDT reefers we recommend Roger Hinman's article on the prototypes in Mainline Modeler (October 2000).
The Rutland and MDT reefers will be offered without decals for $28.00 ea. The milk reefer is scheduled for release on November 1. The freight reefers should be available by December 1, 2000. Separate decal sets for each version should be available by Christmas. Reefer kits with decals will list for $30.00 ea.
---
Last Call for Rutland Flangers!!!

Our last new item (well not really new) is that we are currently producing a second and final run of our Rutland flanger X111 kits (RCS-X111) which has been out of stock for some time now. The price of the flanger kits has not changed; it continues to list for $48.00 (including trucks, couplers and photoetched details). We want to emphasize that this will be the last run of the flanger kit and quantities will be limited. Orders will be filled on a first come basis. The flanger X111 kit will be discontinued when the second run is sold-out.
---