Click on the links below to see the items for sale.
Dolls for sale
- ***NEW*** Collector's Guide to Ideal Dolls 3rd Edition - Paperdolls - Little Golden Books - Ephemera For Sale - American Character Doll Book - Collector's Guide to Ideal Dolls, 2nd Edition - Collector's Encyclopedia of Vogue Dolls - Doll Appraisals - Homepage - About the Author
PAPERDOLLS FOR SALE
All paperdolls are mint and uncut unless noted.
Ordering Information: How to Order
AVON
Gilda Radner Cut-out Doll Book #75127 1979 $25

Bellerophon
Paper soldiers of the American Revolution Black and white, 2 pages missing, 1 colored in Otherwise Good $3
Belleropon Infamous Women Excellent Black & White pds includes Mata Hari & Lucrezia Borgia $6
BETSY McCALL
Betsy McCall McCall's Magazine 1969 Gives a Valentines party (fold) Good $6

Betsy McCall McCall's Magazine 1960 Takes a trip on the California Zephyr (fold) Good $6

Betsy McCall McCall's Magazine 1966 Goes to a Beach Party (creases & folds) Good $6

Betsy McCall McCall's Magazine Visits the World Fair $6
Betsy McCall McCalls Magazine PD 1964 Betsy McCall and the Wedding Gown has Betsy's mom and gown, top frayed, rust spots on side and lower right Good $5

Betsy McCall 3 pages of how Betsy was made showing factory photos, Good condition $4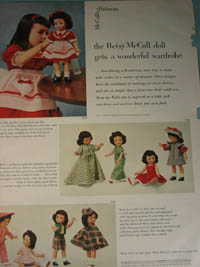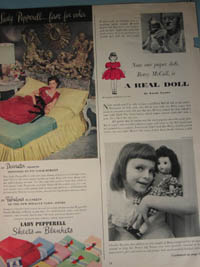 BREYER My English Horse color and black and white clothing and accessories $10
Chest Publishing Bizagolaa a Historical Girl to color and cut, Black & white uncut booklet, with story by Jan Mike & Cathie Lowmiller Mint $6
Chest Publ. Kachi: A Hopi Girl Treasure Black & white uncut booklet, with story by Jan Mike & Cathie Lowmiller Mint $6
CHILD ART
Amy doll book, 1977, doll represents President Jimmy Carter's daughter Amy Mint $45

DOVER
Princess Diana & Prince Charles Fashion PD Dover Paperdoll 1985 by Tom Tierney Mint $15

When Betsy Grows Up Dover Paperdoll 1989 Mint $6

Evergreen Press Dolls of the 1930s Mint uncut watercolor pds of compo (e.g. Chuckles) and bisque dolls by Janet Nason, 1976 Mint $10

-----

Hobby House Press
Hobby House Press, Aaron: A soldier of the American Revolution, color 2 page on cardboard, drawn by John Axe, signed by artist, limited edition for the UFDC national Convention, Boston, 1987.
Holly Hobby Birthday Card 1974 50 cents For a Sweet Girls' Birthday Doll plus 4 dresses and accessories, $3
ILLUMINATIONS Jonathan James #05404, 1987 Recreation of authentic period costumes from 1988 by Ray Rue, a young boy paperdoll w/ sheets to cut $8
Jack & Jill Magazine Gold Rush Town in , Artist Roberta Fairall lady, sherriff and Prospector Mint $5
LOWE/JAMES & JONATHAN
Jeannie & Gene #3727 large headed girl and boy paperdolls with costumes $10

Ms Dolls Lowe #3712 1976 3 PDs with career clothes Mint $15

A School Wardrobe for your and your doll Magazine pd mid 1940s 2 color-brown and red Exc $5
Schoolmates, 1960, 4 pds,mint $25

RAND McNALLY
Randy and Cher Mint 1977 Remake of Mini Mods with mod Carnaby St. outfits $20
SAALFIELD
A Day with Diane Saalfield #1770 by Laura Bischoff has 10 cent price on it Mint $45

Colonial Paperdolls Saalfield #1353Little Women: Beth, Jo, Amy, Beth. Beth has stamped "Permanent File Copy return to Library Desk" on her forehead, deaccesioned from Saalfield Collection, Ohio Mint $50
Little Women Saalfield #1377 Folder Mint $45
Mini Mod PDS with London Fashions #1348 1966 2 teens with Carnaby St. fashions $35

Paper Dolls and their Dollies Saalfield #1615 1940s 4 dolls, Mary Knight artist Mint $40
Really Truly Paperdolls Saalfield #453 - 4 Books: Connie & Ida Mae 3 pages, Hattie & Kathie 4 pages, Ann, Olive and Gladys 3 pages. Partially cut, missing some outfits Good $45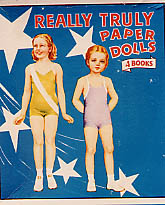 Two Little Charmers Saalfield Uncut heavy cardboard pds, in plastic bag with scissors and costumes Mint $8
White House Paperdolls Saalfield/Artcraft #4475 1969 Mrs. Nixon, Julie, and Trisha Mint $35

Schocklen Books The Paper Shtetl $15
Troubadour Press/Price Stern Dolls through the Ages Black and white coloring type book with history of dolls, written by Nancie Swanberg, 1983 Mint $6
WESTERN
Western Bride & Groom Uncut boxed set, precut dolls (dolls are warped, not completely flat they could probably be weighted down and flattened out with a heavy book), perforated clothing on glossy paper, 2 stands, 1982 Otherwise Mint $6
Bridal Doll Book 5 paperdolls from 1978, Bride,Groom, Best man, Maid of Honor Flower Girl, full color clothing, mint, $25
WHITMAN
Barbie Boutique Whitman #1954-59 1973 pink and white check cover Mint $30
--
Barbie & Skipper Campsite at Lucky Lake Whitman Paperdolls #1836 1980 Features campsite and furniture Mint $15

Bride & Groom Whitman #1957 -1968 Bride, Groom, Bridesmaid, Bestman, pen on neck of bride, crease on one page Exc $25

Fashion Flatsy Whitman #1992:69 1971 pd of Ideal play doll Mint $30

Magic Stay on Clothes #1988 1956 Peter and Polly in folder price 59 cents, 2 outfits out out and missing $40

----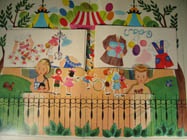 Magic Stay On Dresses Whitman #4618 1961 Blonde doll with 21 outfits; Carol - brunette(with crease in neck) with 30 outfits Exc $25
Malibu Skipper Whitman #1952-59 1973 Paperdoll Mint $25

Raggedy Ann & Andy Whitman Uncut from 1974,#1944-2, clothing looks like photos of real fabric Mint $15

WONDER
Bride and Groom Wonder #9605 1971- 4 pages color outfits rest b & w coloring paper stock Mint $15
Heidi Cut and Color Book Wonder #9600 4 pages color costumes rest black and white coloring stock Mint $10

----

Portrait of Skipper 1964 Story book with partial color illustrations, most b & w by Claudine Nankivel, story by Ellen Lenhart. Mint $20.
MISC.
CHILDRENS PLAYMATE MAGAZINE $8
PAPERDOLL ARTISTS
Flora McFlimsy by Sue Shanahan for Wendy Lawton 1993, large $8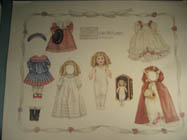 Peggy Jo Rosamond Victorian Lady for 1999 UFDC Convention, pd and two outfits $8
Karen Prince "A Child for All Seasons" boxed doll with four seasonal outfits, 3-D, 2002 UFDC Denver Luncheon souvenir $50


Marilyn Zahl Hempstead Anna: A woman of the 1850s black and white 4 pages + cover, 1976.
American Girl Paperdoll, Swedish $5

Suzo halloween catalog with one page of cut-outs $5

---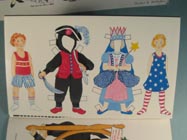 Can you identify this paperdoll? It is from my childhood set and I'd love to find out the name of the set and to find one to purchase.

Ordering Information: How to Order
Dolls for sale - ***NEW*** Collector's Guide to Ideal Dolls 3rd Edition - Paperdolls - Little Golden Books - Ephemera For Sale - American Character Doll Book - Collector's Guide to Ideal Dolls, 2nd Edition - Collector's Encyclopedia of Vogue Dolls - Doll Appraisals - Homepage - About the Author