Click on the links below to see the items for sale.
Dolls for sale - ***NEW*** Collector's Guide to Ideal Dolls 3rd Edition - Paperdolls - Little Golden Books - Ephemera For Sale - American Character Doll Book - Collector's Guide to Ideal Dolls, 2nd Edition - Collector's Encyclopedia of Vogue Dolls - Doll Appraisals - Homepage - About the Author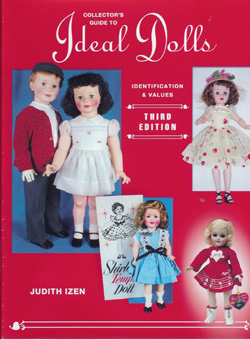 Ordering Information: How to Order
COLLECTORS GUIDE TO IDEAL DOLLS: IDENTIFICATION AND VALUE GUIDE, THIRD EDITION
A MUST HAVE for Ideal collectors
by JUDITH IZEN
***380 pages of all Ideal Dolls ever made!
***1,000 Photos, Most in FULL COLOR
***Updated Values for all Ideal Dolls produced from 1907 to 1985
Showcases ALL your favorite IDEAL dolls such as Shirley Temple, Toni,
Miss Revlon, Patti Playpal, Betsy Wetsy, Thumbelina, Tammy, Crissy and
many, many more.
Judith Izen will be happy to autograph her book for you. Please specify when ordering.
$54.00 for each book
$5.00 Shipping and handling
Total=$59.00
Ordering Information: How to Order