Click on the links below to see the items for sale.
Dolls for sale
- ***NEW*** Collector's Guide to Ideal Dolls 3rd Edition - Paperdolls - Little Golden Books - Ephemera For Sale - American Character Doll Book - Collector's Guide to Ideal Dolls, 2nd Edition - Collector's Encyclopedia of Vogue Dolls - Doll Appraisals - Homepage - About the Author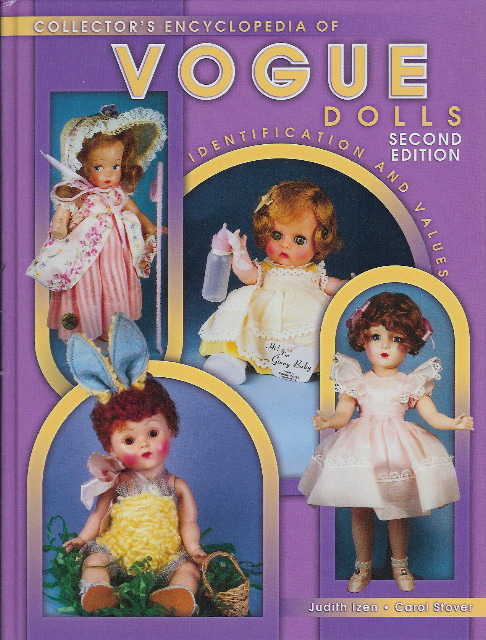 2nd Edition
Ordering Information: How to Order
COLLECTOR'S ENCYCLOPEDIA OF VOGUE DOLLS-
IDENTIFICATION AND VALUES
BY JUDITH IZEN & CAROL STOVER
FEATURING:
- All Vogue Dolls: Ginny, Jill, Jeff & Jan, Ginnette, Toddles, Lil Imp, Baby Dear and all Vogue Dolls
- Over 1,600 color photographs
- Identification and values
- hard cover
- 381 pages
Judith Izen will be happy to autograph her book for you. Please specify when ordering.
$29.95 for each book
$5.00 Shipping and Handling
Total Cost=$34.95
Ordering Information: How to Order
Dolls for sale
- ***NEW*** Collector's Guide to Ideal Dolls 3rd Edition - Paperdolls - Little Golden Books - Ephemera For Sale - American Character Doll Book - Collector's Guide to Ideal Dolls, 2nd Edition - Collector's Encyclopedia of Vogue Dolls - Doll Appraisals - Homepage - About the Author
If you do not have PayPal and want it, click the button below: