Foxglove-DeVine Trendsetter, NA, HSA-s ("Trendy")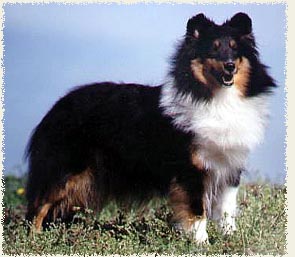 In the summer of 1991, we went to see a litter of seven-week-old puppies, one of the first litters sired by our young male, Toby (CH Shield Crest Hurricane). Our attention was immediately captured by a rather plain tri bitch. When she came toward us at an easy trot, our jaws dropped -- this was one of the nicest fronts we'd ever seen. "Can this one come home with us?" I immediately asked her breeder, Denise Deskiewicz (DeVine Shelties).
Trendy was not destined to tear up the show ring. Although she won some big puppy classes, she matured at just a hair over 13 inches. That was enough to convince us that showing her would only be an exercise in frustration. But Trendy gave our breeding program exactly what we'd hoped for, turning out to be extremely dominant for that good front, as have been her children. Although Toby did not control size, Trendy did, and her children also have been very good size-controllers. Trendy's influence on our breeding program is one reason we rarely worry about size these days.
Trendy carries on at Foxglove through her daughter, Foxglove Cafe Au Lait (by CH Grandhill Clearsky Hi Flyer), her son, CH Foxglove Chances Are (by CH Aylmere Foxglove You Bet), and several lovely grandchildren. She is spending her retirement with Denise, doing what she loves most -- working! Trendy has earned an AKC agility title and three AKC herding titles (HT, PT-s, and HSA-s). We are all very proud of Trendy's latest achievement -- a herding High In Trial, beating some of the top Border Collies on the east coast... at age 10!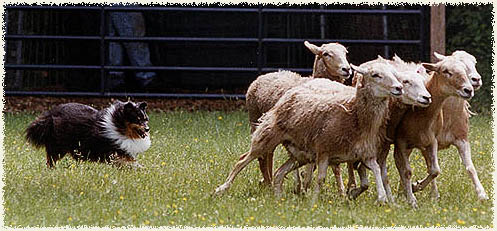 CH Sunnybrook's Heritage Spirit, ROM

Am./Can. CH Alfenloch Ryan O'Neil, ROM

Can. CH Alfenloch Brooke Shields

Am/Can./Jap. CH Alfenloch Whirlwind, ROM

CH Sunnybrook's Heritage Spirit, ROM

Am./Can. CH Alfenloch Tatum O'Neil

Can. CH Alfenloch Brooke Shields

CH Shield Crest Hurricane ("Toby")

CH Macdega The Piano Man, ROM

CH Macdega The Chrome Pony

CH Macdega Dior

Sea Oak Diamonds Are Forever (dam of 3 CHs)

CH Rosmoor Robert Of Migadala, ROM

Stellar Diamond In The Ruff

Sunriver Tri Excellence
Foxglove-DeVine Trendsetter, NA, HSA-s (Trendy)
CH Banchory Deep Purple

CH Rosmoor Robert Of Migadala, ROM

Rosmoor Symphony Of Migadala

Edgelea Nor'Easter O'Rosmoor

CH Waldenwood Bonny's Blue Clyde

CH Rosmoor Lark's Legacy

Rosmoor Night Lark

DeVine Sing A Joyfull Song, CD, HS, NA

CH Macdega The Piano Man, ROM

Homestead Proof Of The Music

Homestead's Fem Fatale

Kelhar's Joy To The World, CDX

CH Conendale Challenger O'Akirene, CD

Kelhar's Cricket On The Hearth

Kelhar's Christmas Melody