Clan Kyrkonnel ~ Raeven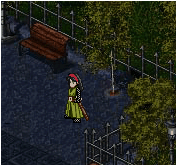 Raeven was the first of the Kyrkonnels to arrive in Temuair, and she is more gregarious than her other sisters. This portrait was sketched during her first term as a Guard in Mileth, although she is ultimately seeking the office of Judge. The path is long, however, so she expects to be a Guard for quite some time. Raeven is also a Rogue with formal training despite some colourful episodes in her past. She holds a certificate in the political arts from the Five Guilds in Rucesion; read her treatise on the subject of Roguish education just below. You might also visit Mileth University for schedule information on her Lore classes.

Raeven's Biography* ~ get a glimpse of Raeven's personality
On Rogues and Rogue Training* ~ a treatise on a Rogue's education, formal and informal
On Guards and Guard Duty ~ a discussion of the duties, responsibilities, and complexities concerning Guards of Temuair.
*Dark Ages contest winner
---
Raeven's Memories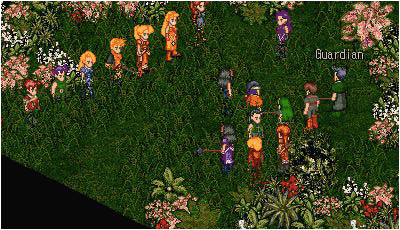 Raeven and Lomas Pledge Their Love in the Faery Glade
Chatting with Maerista, Kedian and Chloe

Hunting Bats with Maerista and Etienne

Worshipping at Weekly Glioca Mass

Guard Meeting Led By Xilan