Check out pictures and music from Groovin' High, a celebration of the ensembles program, performed at the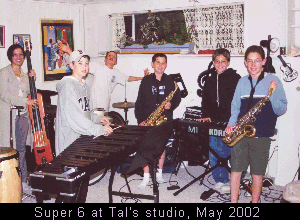 The youth Ensemble program is designed for students who want to play with a steady group, and expand on their experience with group musical interaction. This activity is open for students ages 10-18. The overall goal is to create a safe environment for each member of the group to express him/herself, and discover their unique specialty. During the year we play different styles ranging from Pop, Jazz, Latin rock & roll, and Broadway show tunes. In addition to learning to play in each style, the members of the ensemble are introduced to the basic fundamentals of playing within a group and the role of each instrument in it. The students may choose their favorite tunes, bring originals, and participate in arrangement decisions. We will explore a little of the theoretic parts of composition and arranging but the main focus is on playing and listening!
There are two scheduled performance dates each year (one for each semester) as well as various community performances opportunities. Each ensemble includes up to 3 horn players (Saxophone, clarinet, flute, trumpet, and trombone) 1-2 keyboard player's (piano & synthesizer) Bass and Drums. The maximum capacity of each ensemble is 6 members. Each member has to have at least two years of experience on their instrument.
The ensembles meet twice a month for an hour and a half. The fee is $40 per month and it includes tuition and materials (ensemble folder, CD, video of the performances, and sheet music).