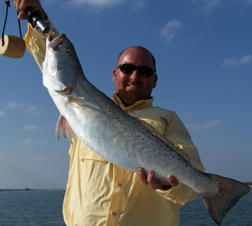 Fly Fishing
The lower Laguna Madre Bay is a hyper-saline estuary bay system approximately 50 miles in length, with an average depth of less than three feet. These miles of crystal clear shallow water afford anglers the opportunity to sight fish for redfish, sheepshead, ladyfish, black drum, spotted sea trout, and flounder, as well as the occasional tarpon or snook. Most of the water is wadeable and completely clear. You can find reds tailing almost daily and big sow trout lurk in potholes to ambush passing flies. Flounder rip out your drag as they puff away with your clouser and Ladyfish can tear into your backing before you can whistle to your buddy that a fish is on.
With generally sunny days and an average temperature of 70 degrees in the winter and 85 degrees, anglers can fish the bay year round. The tides, winds and constant changing conditions greatly influence the fishability of a given area of the bay. Some of these flats fish better on out ongoing tides, while other flats hold more fish on the incoming tides. Usually, one can find a flat that has a lot of fish on it any time of the year.
The water temperature on the shallow flats rise and fall much faster than in deeper waters. Hence, one can suddenly find bait fishing suddenly appearing as soon as the temperature rises and then retreating once the weather cools. Baitfish tend to seek out shallow water, thus anglers can predict when baitfish will be present based on the tidal charts. After consulting these charts, he will poll around looking for bait activity, and if he sees any action, he will then start fishing. These flats are six miles wide and sixty miles long.
While the boat traffic can be heavy during the spring and summer, the sea trout and redfish seem to ignore the boats and are available to be caught year round. The peak season for sea trout is June through August, and the peak season for redfish tends to be April to November. Warmwater species such as the jack crevalle show up from March until December. Tarpon usually show up by April with a few tarpon remaining until November. November is the best month to fish the Laguna Madre Bay because by then the water starts to cool down. Also,December can be one of the best months as well.
Terminal Tackle Fishing.
South Padre Island is Texas' hottest fishing spot. Drop your line from a boat, a pier or cast out into the surf. Tackle an 800-pound Marlin or maybe a state-record Wahoo in the Gulf of Mexico. Winter fishing in our area of the world is the best that you can experience anywhere.
With our temperate climate averaging in the mild 60s to the low 70s, you find most days warm and sunny. This type of weather causes the bait to move and the fish to bite. Wherever you decide to fish, whether it be the surf, the jetties, the pier, out in the bay, or offshore, you stand a better than average chance of catching fish, and most of the time a lot of fish.
Surf fishing is a very relaxing way to enjoy our beaches. From our condo you are only 200 feet from surf fishing. Anglers can even use fishing tackle used primarily in fresh water, but just about have to have a rod at least seven feet long and some will use rods up to 12 or 14 feet long. Actually, the longer the rod the farther out in the surf you can cast your bait.
The most common reel is the spinning reel usually holding anywhere from 12-pound to 20-pound line, with a good drag you will land just about any fish you hook. The best fish heard of was a 63-pound redfish caught the year before the oversize tag.
The terminal tackle used is really simple, a rig called the "fish finder" consisting of a leader of either monofilament or steelon cable using a long leader ending with the weight and two short leaders above that hooks hang from. Bait normally is live shrimp packed in sawdust which lasts all day, or frozen shrimp and squid. If you are not getting bites, move -go about 300-400 yards and try again. Sooner or later you are going to catch fish.
Most of how you fish the surf also works on the jetties and the pier, the real big difference is that a lot of jetty and pier fishing is done with live shrimp using a popping cork. This becomes a real important piece of equipment especially around the rocks and structure of these places since fish like sheepshead and mangrove snapper are caught in the middle of these hangs. Also, when fishing off a pier at night under lights, the fish feed on bait that is swimming above them so you have to suspend the bait above them. The main difference between jetty and pier fishing is that on the pier you can use any size rod from 5-foot bass rods all the way up to surf rods. So you can use the same fishing equipment on the pier that you fish with up North.
Most bay fishing is done from a boat and a lot of good fish are caught within a mile or two from most docks. The baits of choice are live shrimp and cut mullet. With live shrimp, you normally use a popping cork. With mullet, the "fish finder" rig explained above works real well. Using live shrimp with a popping cork, we normally drift fish in places with a lot of open areas in the grass, call "pot holes." When using mullet, find a spot you think has fish, anchor, and set up a couple of rods and wait. If you don't get a bite in a half hour to 45 minutes, move to another spot. Like surf fishing, if you move enough you are going to find fish.
Offshore this time of year is usually red snapper fishing or a on head boat. There are eight or nine boats specializing in this type of fishing in our area. Most all of them supply all bait and equipment and is the only type of fishing that doesn't require a fishing license.
If you don't have a boat and want to experience some real good fishing, charters for redfish, speckled trout and back drum are available and do very well this time of year. I've been doing this type of fishing for 20 years and have had very few disappointed clients.
What it comes down to is that you are staying in an area that is a Mecca of fine fishing, so don't hesitate- go fishing.