Last summer, we joined in with another family and rented a house in Falmouth, on Cape Cod.
The southern portion of Cape Cod had lots of ponds and inlets, and our house was located on a finger-like projection of land. There was a pond one half block to the right, another pond one half block to the left, and the ocean was five blocks to the south.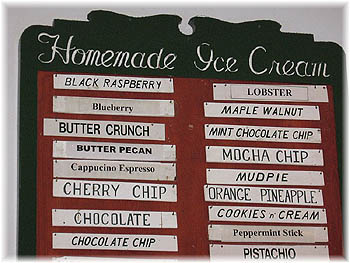 Yes, that one on the right is Lobster Ice Cream
The town of Falmouth has a variety of shops, a nice seafood take-out store (live lobsters!) and a candy store that also serves ice cream.
Of course, since it's in Cape Cod, there's a flavor not found on most ice cream menus (see picture). It tasted sort of buttery, like Butter Pecan, but it had frozen bits of cooked lobster mixed into the ice cream. I suppose if you order it as a sundae, they don't put chocolate sauce on it. Instead, they pour on melted butter.
---
Near Falmouth is the location of the Pilgrim's landing site; Plymouth. There's a modern town there, but nearby is an historical site which presents Plimoth Plantation as it was in the early 1600's.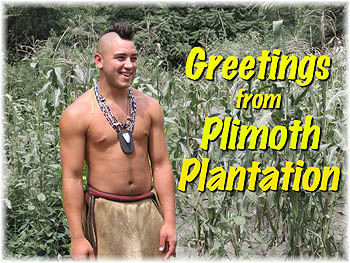 Plimoth Plantation — Where the Men are Men
It features a Wampanoag village and an English settlement site, both populated with people who are historical re-enactors. As you interact with them, you learn about their respective histories and cultures.
Actually, the people portraying the Wampanoag dress in historically accurate clothing and demonstrate the activities of the Wampanoag, but they don't speak the Wampanoag language, and don't pretend they're back in the 1600's.
The English settlers, however, do act as if it's still 1620, and speak with the accents and attitudes of the past. If you want an earfull, just ask them what they think of The King.
---
At the northwards-pointing tip of Cape Cod lie protected beaches and the anything-goes settlement known as Provencetown ("P-Town" to the locals). When we arrived, we noticed there was confetti all over the sidewalks. We were told that there was a Mardi Gras-style Carnival parade the day before. In July. Any excuse for a party.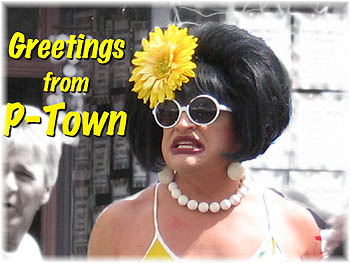 Provencetown — Where the Women are Men
P-Town is gay-friendly, and as we walked into the center of town, we found a Drag Queen competition underway. It was quite entertaining.
Some of the guys went all-out to appear female as much as possible, while others were clearly not trying as hard. There were two middle-aged men — twins, I think — big, hairy and mustached. They wore matching flower-print dresses and white sun hats. Roll your mouse cursor over the picture above to see them.
Each contestant introduced themselves to the crowd, and then strutted their stuff to a disco song. Our favorite was a guy dressed in a classic 1950's print, with matching vintage handbag and shoes. He got it on eBay, he told us.
---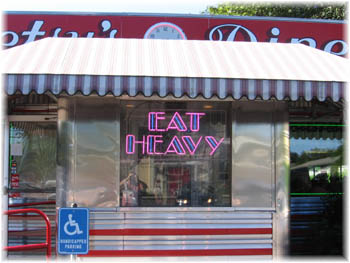 As with most states in the Northeast US, Massachusetts has a fair number of diners. Many of them still have that classic 1950's stainless steel facade.
Falmouth has "Betsy's Diner", with some good advice prominently displayed in glowing neon.
---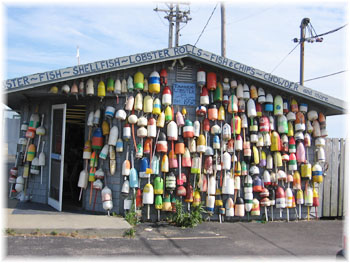 During our travels around the Cape, we found a small seafood shack. The entire facade was covered in colorful lobster bouys.
It's nice to visit a seafood restaurant outfitted with real seafood equipment, rather than fake fishnets and plastic crabs.
---
---
© Robert Bendesky 2007
All Rights Reserved