Remembering the Rutland - Remembering the Milk Trains
---
Modeling Boston & Maine RR
Wood Milk Car No. 1718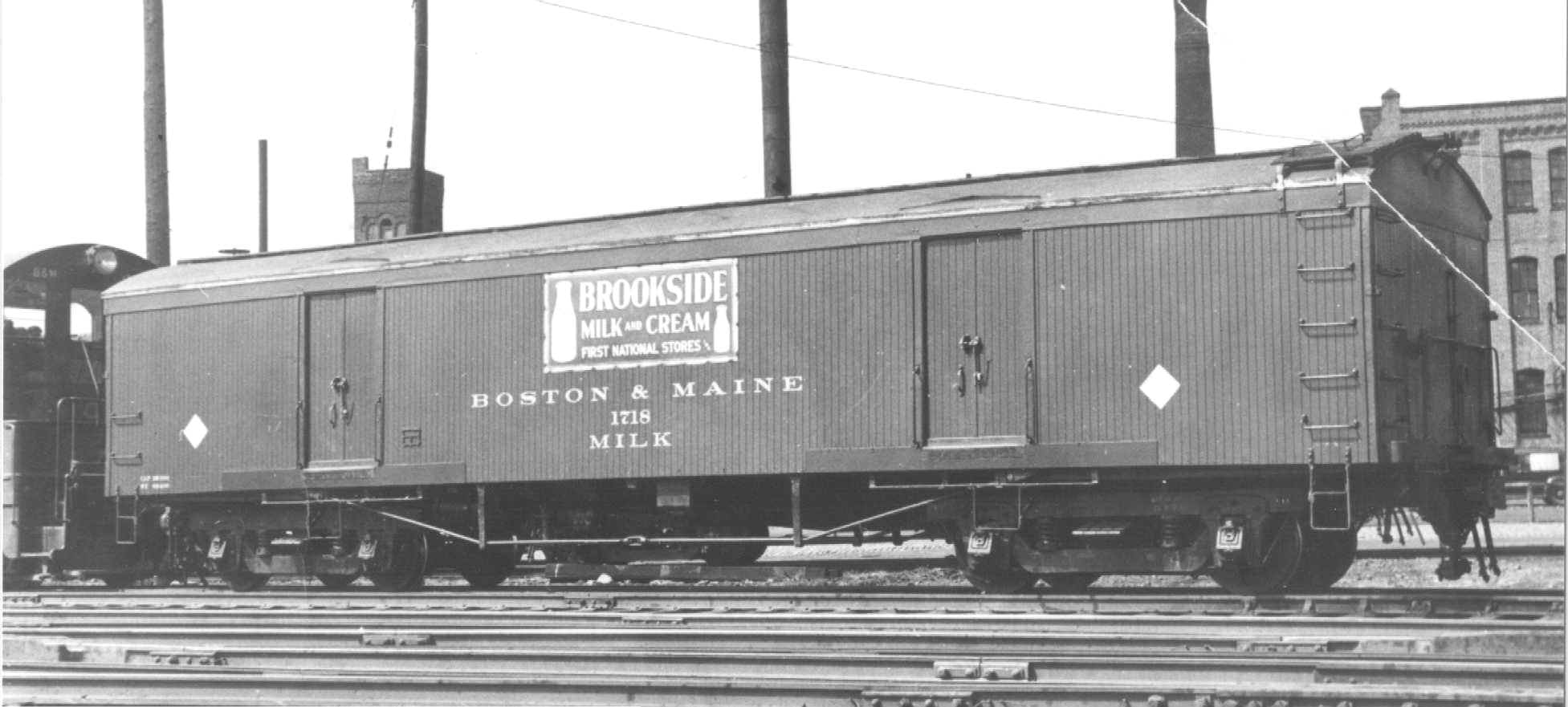 Boston & Maine wood milk car #1718 is shown circa 1951 shortly after it received a Thermo-King refrigeration unit at the Concord (NH) Car Shops (before this modification it was a "can car" requiring manual icing). In this configuration it was used exclusively in service between the Bellows Falls (VT) Co-operative Creamery and Boston in the employ of First National Stores.
A very nice HO scale model of this car was imported in the 1980s by Overland Models (see below). The only essential modification required to the model was the lowering of the Thermo-King roof vent which is located on the other side of the car in the photo. Railworks imported a run of this type car (both undecorated as well as painted and lettered) in late 2001.
--Photo courtesy of Bob's Photos--
---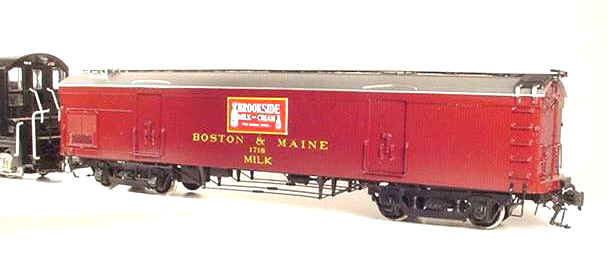 Pictured here is Overland Models' HO scale version of the Boston & Maine RR Thermo-King-equipped wood milk car, showing the side containing the Thermo-King refrigeration unit. Before painting, the Thermo-King roof vent was lowered and screening was soldered over the opening to the T-K unit. Scalecoat paint was used throughout: black underframe and roofwalk, a mix of Caboose Red and Bright Caboose Red for the body and aluminum on the roof (color photos document this). Testors Glosscoat was applied before and after decaling. Lettering, which is a bit oversized, was with Accu-cal decals. The Brookside placard was by Concord Junction, attached to a sheet of .005" styrene. Today, Microscale makes accurate decals for this car. As well, Railworks sells the signs (two of each: "Bellows Falls Co-op Creamery" and "First National Stores") mounted on thin, pre-cut brass stock.
Model by Jim Dufour
Image by Doug Goodwin
---
Click here if you would like to read an article from the June 1951 B&MRR Employees Magazine on the Thermo-King retrofit program which was carried out at the B&M's Concord Car Shops.
---