Remembering the Rutland - Modeling the Milk Trains
---
An HO Scale Kitbash
National Car Company
"Shorty" Milk Container Flat Car No. NX1487
as modeled by Tom Travers
Text by Jim Dufour and based on notes by Tom Travers
Images by Bill Clark
---

Tom Travers' model of National Car Company milk container flat car number 1487, complete with a scratchbuilt Sealtest tank, is shown on the Pfaudler's display of milk train models and memorabilia at the annual Amherst Railway Society train show in West Springfield, MA. Read on to find how Tom kitbashed this car, one that milk train modelers have coveted for many years.
---
Modeling the National Car Company Flats
Generally speaking the National Car Company milk container flats came in two flavors: short (roughly 40 or 41 feet) and long (roughly 53 feet). A very nice HO scale model of the longer-style car with the fishbelly center sill was imported by Overland Models in 1989. More recently Funaro & Camerlengo has offered resin kits of the longer cars in both the side and center sill versions. But the shorter style cars have proven to be an elusive quarry for the milk train modeler.
Modeling NX 1487
Tom's inspiration for modeling one of the shorter National Car Company flat cars was a photo of the protype by Chandler Cobb. His HO scale model of NX 1487 began as a Tichy 40 foot USRA flat car. The deck was replaced with Evergreen 2" sheathing for the decking and Plastruct U-beams for the tank channels. The tank latches located at the end of each channel were obtained from a Funaro & Camerlengo kit of a National Car twin tank flat car. The ends were contructed of various sizes of Plastruct I-beam sections and brass wire. Additional details on the ends are Cal Scale express reefer buffers, steam, air and signal hoses and a Utah Pacific brake wheel.
The express trucks are brass and were available a number of years ago from Overland Models. More recently, Precision Scale imported a run of similar trucks and I believe that I have seen Greenway selling them at shows also.
This view of the "A" end of the model highlights the fabricated end of Tom's car. In lieu of scratchbuilding, the cast resin ends from a Funaro & Camerlengo kit could possibly be used instead. Also notice the car deck comprised of Plastruct U-channel and Evergreen styrene sheathing. The tank latches are from an F&C kit of the longer-style National Car Co. milk flat.

Image by Bill Clark
Modeling the Sealtest Container The Sealtest container began as an MDC Roundhouse old time tank car body. It was cut in half and had R. Robb tank car ends added. The skirting, door and sign were all scratchbuilt of sheet styrene and the "Sealtest" lettering was done by hand! Lettering

The flat car lettering was done a bit more conventionally using Funaro & Camerlengo decals.

Prototype Information

According to Tom, the prototype "car can carry two small container tanks or one large Borden or bell type tank." However, the National Car Company roster contained in the 1947 Official Register of Passenger Car Equipment states that "cars numbered 1487, 1488 and 1489 are each equipped to carry one insulated tank of 3,000 gallons capacity." Thus are the vagaries of researching the milk trains.

For More Information

For more information about the National Car Company and its unique fleet of container flat cars, check out Dwight Smith's Milk Train and Milk Cars Bibliography and the 1947 National Car roster elsewhere on this web site. In particular the May, 1988 issue of Railroad Model Crafstmen (To Market by Rail: Milk Containers on Flat Cars) and the book NYO&W - Milk Cans, Mixed Trains & Motor Cars by Robert Mohowski are recommended.

To read Mal Houck's methods for maximizing the performance of brass milk car trucks, click here.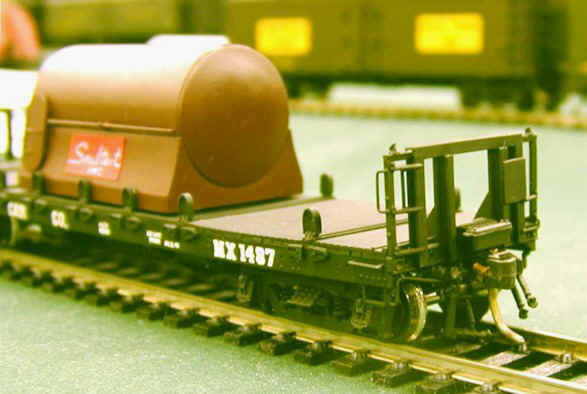 ---