Remembering the Rutland - Modeling the Rutland
---
Converting an MDC Standard:
Rutland Van No. 43
Model & Text by Bill Badger
---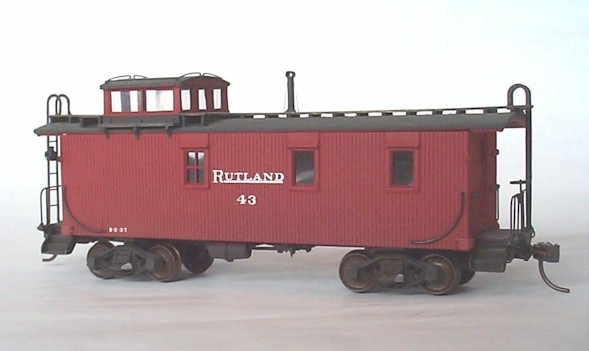 ---
I converted an MDC caboose into a Rutland 40-series van a few years ago. I went mostly by eye so I don't know how close it is to the prototype, but it looks pretty good to my eyes.
CUPOLA
The flared sides of the cupola seemed to me to be an important feature, so I sawed up between the sides and the ends of the cupola to the underside of the roof. I added a bit of styrene ("bit" is a technical term that goes along with the "by eye" approach) to slope the cupola sides and then filled the resulting gap. I seem to recall that I filed out all of the cupola windows and made new ones that more closely followed the prototype.
ROOF
Tissue paper was added to the roof to simulate canvas. Stripwood was used for the roofwalks. The four-board Rutland and NYC roofwalks were another distinctive feature that I thought was important.
SIDES
I agonized over the sides of the MDC car and finally decided that the window locations were far enough off that I needed to make new sides. Making the sides turned out to be easier that worrying about it. I measured one of the prototype vans that has been stuck onto a restaurant at West Bridgewater, VT, but plans have since been published in the RRHS Newsliner. I plugged the old window holes with styrene and sanded the sides to the bottom of the grooves in the siding. Next I glued new sides on with water-based contact cement (so as not to distort the styrene). Then I cut the new window openings all the way through the body. I used Grandt Line windows with the appropriate muntins removed.
ENDS & UNDERBODY
The ends of the car are stock MDC, but the end platforms were stretched a bit and the steps were something I found in my parts bin. The ladders are from Taurus Products. The underbody is basic MDC. I have no idea what the trucks are, but the leaf springs are the old Walthers parts.
---