Remembering the Rutland - Modeling the Rutland
---
Rutland 40-Series Vans
by Don Janes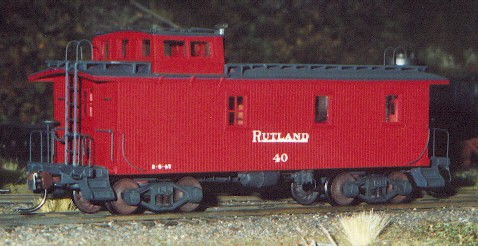 Love that Red!
Model and photo by Don Janes
---
INTRODUCTION
I have always been a fan of cabooses (I started my railroad career as a brakeman) and as a Rutland modeler I wanted to have models of the different classes that ran on the Rutland. My collection consisted of the four window version offered by Funero & Camerlengo, a couple of New York Central-style brass imports and #36 which was imported by Overland Models. Missing from the roster were the 40-series wooden cabooses. I was unable to track down any commercial models of this class so I set out to scratchbuild my own. I knew that I would probably want more than one so I decided to build a "kit" in order that I could make several if I wanted. In this way I would not have to repeat many of the tedious steps more than once. The following is an outline of how I went about this task.
I had no plans at the time so I took all of the overall dimensions from the Overland model and used photos for adding details to the model. Naturally, just as the paint was drying on the last model I received my Newsliner and there were plans for the caboose I had just finished. Thankfully most of the dimensions were quite close and there was no need to worry.
---
MASTERS AND MOLDS
I made masters for the floor, sides, sub roof and running boards from styrene and wood. The cupola, ends and steps were copied from the four window caboose. Once the parts were fabricated they were glued to .080" styrene, as were the other resin parts I was going to use. A box was built around the parts and filled with Dow HS 2 RTV rubber. Once this cured I removed the dam and I had molds for all the major parts needed to build my cabooses. The parts were then cast in resin. On the sides I cast in Nut-Bolt-Washer castings for the railings but only made plain openings for the windows as I intended to add Grandt Line outfit car windows later. I will not go into detail on constructing all the masters as it would take pages.
---
CONSTRUCTION
I decided to build three cars to start with (once finished I doubt if I will build any more for a while). Here is an outline of the construction process and how the cars went together.
The basic body was assembled using the floor, sub roof side and end. All needed to be trimmed and fitted for squareness.
The cupolas were assembled and test fitted to the roof for a good fit and then set aside (they were added after painting).
The finished roof was made from .015" styrene and fitted for correct length and overhang.
Steps were trimmed and fitted to sit against the deck and between the ends and the end sill.
Cupola roof made of .015" styrene and fitted with .012 brass wire grab irons.
Side and end fascia were added using "O" scale 1x2 and sanded for neatness.
End railings were made from .015" diameter brass wire.
All side handrails and body grab irons were made of .012" diameter brass wire.
Roof walk castings were added to the roof using scale 2" x 2" styrene for supports sanded to fit roof contour.
The underbody was detailed with scale brake components, various brass wire for piping and chain for the brake system.
Plastic ladder stock was used for the end ladder with top loops bent from .012" dia. brass wire and installed in holes drilled in the top of the ladder.
Cut levers made from .012" dia. brass wire held in place with wire eye pins.
Grandt Line windows added to side. Smoke jack added to roof and Kadee #5 couplers and T-section trucks.
Brake staff made from .015" diameter wire with Tichy brake wheels added.
Cupola added after painting and cupola side platforms added from styrene.
---
PAINTING AND LETTERING
RED CABOOSE
Body and cupola Floquil Caboose Red with a touch of Engine Black added.
Underbody and roof 50/50 mixture of Floquil Engine Black and Grimy Black.
Wheels and couplers painted a dark rust and smoke jack dirty silver to represent galvanized pipe.
CDS dry transfers for Rutland cabooses.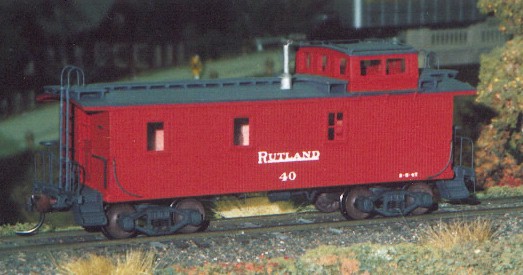 Those Rutland wood vans looked good from any angle!
Model and photo by Don Janes
GREEN and YELLOW CABOOSE
Underbody and roof same as red caboose.
Sides and ends - Floquil CNW Green, CSX Yellow cut with Reefer White to tone down the brightness of the yellow.
Herald King Rutland caboose decals (now out of production).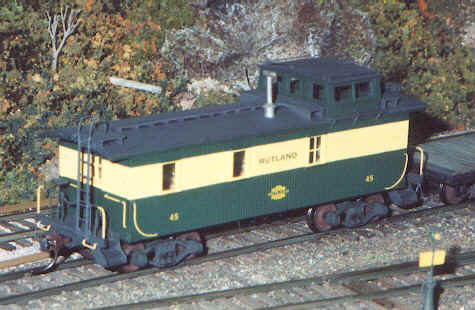 They looked just as good in the Green-and-Yellow scheme!
Model and photo by Don Janes
---
DETAIL PARTS
Smoke jack - Precision Scale 31455
Markers - Cal-Scale #MA-375
AB Brake set - Detail Associates #FC 6227
Builders in Scale 40 links/inch black chain
Grandt Line outfit car windows
CDS Rutland Caboose Decals #HO 429
Herald King #C 760 (now out of production)
---