Shhhh...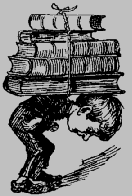 It's the library...
The scent of old bound books, the pages turning faintly yellow, the creaking of spindly, secretive bookworms, leaving slime trails as they saunter across and through the pages they devour...

Racks and racks of books, in old wooden stands, leaning against the panelled walls, a fine rich carpet underfoot. One of those carpets which stands up and begs for the feel of bare feet. An old comfortable ottoman for reading upon... (Down, carpet, down!)
Words flowing; text spilling out. Dreams and visions; ghosts and ectoplasm. Books begging to be read -- savored, trusted, argued with, lived. Words swirling away from the linearity into which they've been formed and shaped, into whole gestalts of potential...
Hypertext so hyper it just begs for mercy and sedation...
Hypotext so soothing it puts even its binders and ink to sleep...
This, then, is The Library. Enter, if you dare.
For to read is to challenge perception. There is little that is "safe" in the power of thought and intuition.
---
You, the visitor, walk over to the bookshelves. Select:

A Review: The Physiology of Taste: or, Meditations on Transcendental Gastronomy, by Jean Athelme Brillat-Savarin (1825), translated by M.F.K. Fisher (1949), and reviewed by Diann (1996).
A Review: Silicon Snake Oil: Second Thoughts on the Information Highway, by Clifford Stoll. Reviewed by Diann (1996).
A Review: Endurance: Shackleton's Incredible Voyage, by Alfred Lansing, and reviewed by Diann (1999).
A list of recommended science fiction works , with brief commentary.
A list of recommended fantasy works, with similar commentary.
A list of recommended fiction, of the sort that doesn't readily fit into either of the above two categories.
Banned Books Online. An important resource.
There will be more selections here someday. Oh, yes. There's a whole world of non-fiction to reflect upon. And fiction, more in depth. There's even the art of pithily dissecting a suboptimal book to the edification of all (or, at least, to the amusement of the critic).
and let it never be said...
"The covers of this book are too far apart" -- Ambrose Bierce
| Science Fiction Fandom | Scotland | Music | Quotes | Space | Friends

Last Updated: October, 1999