Foxglove Conbrio The Jig Is Up ("Capone")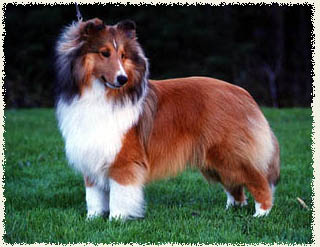 Capone, pictured at nine months, was born 26 August 2001 and has been growing up in Vermont with co-owner Jennifer Moore (Conbrio).
Capone made his ring debut at the ASSA National, where, despite being just a few days over six months of age, he made the cut in large Futurity and regular classes. Although it was his very first show, he moved out at the end of the lead, showed non-stop, and got lots of attention from ringside and during visiting hours. Thank you to everyone who appreciated him so much and accepted his kisses so gracefully. (Okay, so he's a little fast and loose with his affections....) Since then, he's picked up two reserves in a grand total of three shows. Watch for him in the ring this summer!
Capone is a litter brother to Foxglove Thistle Hill Kahlua.
Am./Can. CH Alfenloch Ryan O'Neil, ROM

Am/Can./Jap. CH Alfenloch Whirlwind, ROM

Am./Can. CH Alfenloch Tatum O'Neil

Can. CH Bonnyville Fairfax Nighthawk ("Eli")

Am./Can. CH Alfenloch Ryan O'Neil, ROM

Bonnyville Forever A Diamond

Bonnyville's Sweet N' Sassy

CH Foxglove Ashburton Bottoms Up

CH Fourwinds Light The Way, ROM

CH Trelane Bold Image

Trelane Woodwyn Imagine That

BISS CH Malpsh Penny Serenade, ROM (dam of 6 CHs)

CH Cameo Farms Justinuff Spirit

CH Malpsh The Magic Is Back

CH Westwood's Malpsh Cherry Flan (dam of 3 CHs)
Foxglove Conbrio The Jig Is Up (Capone)
CH Seacliff Special Effects, ROM

Can. CH Fourwinds Go-For-Broke

Kon Tiki Desert Fox

CH Grandhill Clearsky Hi Flyer

Am./Can. CH Alfenloch Ryan O'Neil, ROM

Am./Can. CH Grandhill Jamie O'Neil

Am./Can. CH Grandhill Ms Stephanie

Am/Can./Jap. CH Alfenloch Whirlwind, ROM

Sea Oak Diamonds Are Forever (dam of 3 CHs)

Foxglove-DeVine Trendsetter, NA, HSA-s

Edgelea Nor'Easter O'Rosmoor

DeVine Sing A Joyfull Song, CD, NA, HS

Kelhar's Joy To The World, CDX