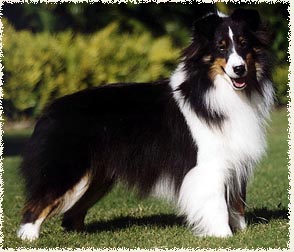 Cara, a bi-factored tri-color, was born 18 August 1997 and is pictured here at 18 months of age. Cara finished her championship in April 2000, owner-handled by Nola Chock (Cinnabar) and Carolyn. On the way to her title, Cara picked up three majors, often going up over the bitch specials. Cara is one of two champions (so far) from her litter of four. She is a litter sister to CH Foxglove Ashburton Sienna.
Cara started off her specials career with a bang. With several all-breed BOBs, a group placing, and a BOB at the March 2001 SSC of Hawaii specialty show, she ended 2001 as Hawaii's top Sheltie bitch. Shown only a few times in 2002, she has so far garnered a Group One and a specialty BOB.
Watch for Cara's young son, Chase (Cinnabar Foxglove In Hi Gear by CH Foxglove Chances Are). Chase now has THREE specialty majors and needs just two singles to finish! To visit Chase's page, click here.
Cara will be bred on her next season.
To see Cara grow up, click here.
Cara was co-bred with Deb Jones (Ashburton) and Susanne Allen (Avalon). She is co-owned by Cinnabar and Foxglove.